We went to Lathe Barn on Sunday. It was a lovely summery day, and Wendy had a marvellous time. Teresa Jayne didn't have as much fun as we would have liked. She was grizzly and cranky, and kept falling over. Usually, she just blinks a couple of times and gets up, but this time she was crying. She wasn't very happy, and when we took her top off to sponge her down, we noticed some spots and wondered if she is coming down with chicken pox, as she has been exposed to it. She certainly wasn't her normal cheery self.
She wasn't crying all the time though. Here she is with her mum.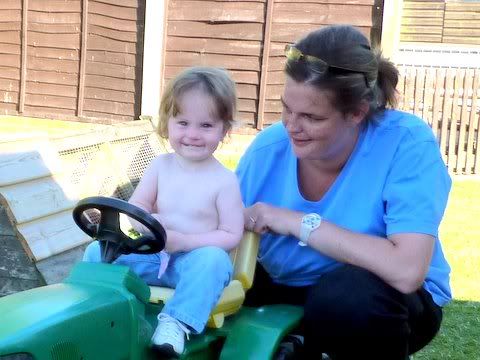 As soon as Wendy spotted Sean and I arriving, she rushed up to greet us, then promptly mugged Sean for an ice cream. Then, in classic Wendy style, she got him involved in undignified games. They both loved it!
We had a nice Tea in their tea shop. Nigel's chair broke while he was holding Teresa, but luckily I saw what was happening and grabbed her so she didn't hit the ground.
Sean was delighted to hear Caelyn's news, and I think you will be too.
Some months ago, she mentioned to Linda, who runs the Community Centre, that she would love to become a classroom assistant, and then she forgot about it. Well, last week Linda came running after her to tell her that they have found a college course for her to get the qualification needed to do it.
Not only that, but the Community Centre is prepared to fund it, which is a great compliment. They have seen her doing
Makaton
there, and Coffee and Craft, plus that is where she is doing her Maths lessons. They have had a lot of time over a couple of years to see how she behaves, how faithfully she turns up, how she interacts with children and other adults, and they have decided she is someone worth investing in. All that remains is for her to get a Volunteering post in a school while she is doing her course. When she passes the course, she can do it on a salaried basis.
Nigel's news is not so good. He has passed his IMI Mechanics course and is now a Technician. An astonishing number of jobs require that he supplies his own tools, which are expensive. But although there are jobs available, they stipulate that they want X years of experience, and he hasn't got any. So he will have to work part time on an unpaid basis to gain experience. He spoke to someone about it today, and will hear if he can start there by the end of the week, so lets keep our fingers crossed.
Michelle is still looking for a job, and getting quite despondent. Lots of suitable jobs for which she is well qualified require a drivers licence, which she hasn't got. There are also hundreds of applicants for each job and all this isn't doing her morale much good. Poor kid is trying so hard and so far its just fruitless. And some people are gratuitously rude when she calls to reply to a job advert she has seen, and it is disheartening for her.
My scooter seat broke a week ago, and I took it into Boscombe Garage today, and they fixed it for £20. They are prepared to do anything mechanical on a mobility scooter, but they won't touch the the electrics. They will clean battery contacts, grease the wheel sockets, patch punctures etc, for a very reasonable price. A 'cleaning the contacts and lube job' costs £75 at a mobility shop, but the local garage will do it for £20 -
and still make a profit
.