What a lot has been going on.
First, Caelyn and Nigel moved into their new house.  Its in a lovely area and it is a 'Close'. Which means the road is circular and there is a fenced children's play area in the middle.  As there is no through traffic, only people who have business there come in, and the neighbours look out for each other.  Tracey looked after the children while her husband Colin helped with the stuff at the new house.  It is in their garden that my dear cat Fat Jack is buried.  They have some lovely dogs and the old male lurcher stood next to Sean and rested his head on Sean's leg, and Sean liked it and was stroking the old chap's silky coat.  Sean has always been scared of dogs, but is better since knowing Brakkie.
Sean dropped me off at Tracey's en route to George Harby's 70th birthday party.  I was to help with the children, but Tracey had them well organised and under control.  Earlier, Wendy and Heather had been annoying each other at the table.  Wendy was pushing Heather's plate.  Eventually, Tracey, Heather, Wendy and Teresa Jayne went to the lounge, and Tracey had to tell Wendy off about something.  Wendy took exception to that and ran out of the room, locking it behind her.  Tracey, who was in there with Heather and the baby, told Wendy to open the door or she would be 'very cross'.  Wendy was frightened and ran upstairs to hide.  Eventually, Tracey had to help Heather out of the window so she could come in through the front door and let her mother  out.  Basically though, the kids were good. 
Here, they are dressed up:
They built a Pirate Ship
Nigel wasn't.  Good, that is.  On Moving Day, he and a mate went fishing at about 3.30 – 4pm.  On Moving Day!  The weather was so bad that they had to come home early.  Today he had such a bad tum that he couldn't join us for lunch.  Luckily my Mum was able to pick her and the girls up, or they wouldn't have been able to come, and Caelyn really needed to unwind, have a cracking good dinner and a pint of cider.
Sean came to pick me up from Tracey's house on Moving Day and we decided we were starving, so we went to the Gurkha Palace.  They are mostly Hindu, yet they had Christmas decorations up.  We really appreciated that.  In the UK today, Christmas is virtually forbidden.  No Nativity scenes in shop windows, no carols etc.  Why?  So as "not to offend Ethnic Minorities".  Well, Gurkhas are an "Ethnic minority" and they wanted to fit in and be courteous, so they put decorations up.  It was a lovely gesture and well in keeping with their courteous, dignified and gentle manners.  One of the young men who works at the restaurant as a waiter, goes to Canterbury University where he is writing a Dissertation of the Experience of Ethnic Minorities in the British Military Forces. Should be a fascinating read. 
He looks too young to have served in the army himself, but he has grown up amongst the regiment of Gurkhas who are garrisoned in Folkestone, so his material and insight will be unique.  He says the only ones who are stridently anti-Christian are some radicalised Muslims.  I was so pleased that the Gurkhas were given the Freedom of Folkestone earlier this year.  They are brave, good people and the Freedom of the City was no more than they deserve.  I've lived here for 12 years and have never heard of any "incident" involving them.  Drunken brawls, assaults, muggings, thieving, drug dealing etc, are done by our own home grown undisciplined youth.  The Gurkhas in contrast have added a lovely dimension to our town. 
Sean and I woke up late, then took Josie, Michelle, Richard, Caelyn, Wendy and Teresa Jayne to lunch at Botolph's Bridge Inn.  The food is always good and the portions are generous.  The staff are always nice.  But now I want to tell you a heartwarming story.  Caelyn, as I have mentioned, moved house yesterday, and she was over stressed and overtired.  Teresa started fussing just as Caelyn's food came, so Caelyn saw to her.  The older couple who run the pub noticed what was happening, so they came to the table and asked if they could take Caelyn's food back to the kitchen as they knew what it was like, having to eat cold food because of a young child's needs.  When Teresa Jayne was settled and happy, they brought her food back.  Only it wasn't her original food.  They brought her a whole new fresh plate of food.  That was so thoughtful and considerate of them.  We have always liked that pub – its one of our favourites – but by doing what they did, they shot up even further in my estimation.
Wendy had a great time tickling Sean
Michelle and Richard had fun with Teresa Jayne
Michelle, Josie and Wendy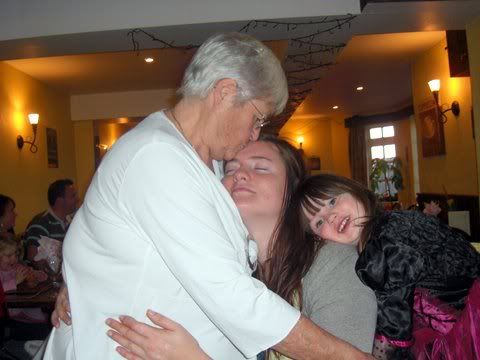 Richard on meat cutting duty
Lovely one of Josie
She is only just a tad shy of losing 2 stone.  I don't understand stones, but I looked up the conversion rate on Google and this is the sum:  1 Stone = 6.35029318 Kilograms or 14lb.  Any way you look at it, its impressive.  She has done very well.
Michelle, Josie and I are to see each other tomorrow.  Josie's heart has been playing up so she doesn't want sole charge of Wendy.  She will have her at Toddler Group tomorrow, then leave her with Michelle and me while she goes for an ECG.  Then we'd like to have lunch together before Michelle starts her journey back to Ellel.  She came back this weekend for her friend Alice's birthday party.