My brother Stephen and his wife Margaret live near Brisbane in Australia. There is dreadful, disastrous flooding there, and the Mayor has had to order a Evacuation. Steve and Margaret are OK for the moment. I had this message from him:
"In spite of what you see on the news we are ok, there are floods all around but we are still clear. The road into town is cut but we have oil lamps and batteries and bottled gas and food to last at least two weeks, and have a good supply of medications and a first aid kit the size of large cabin trunk."
There is a story about the floods with terrifying photos
HERE
and the BBC have a report
HERE
A frightening wall of water was heading towards Australia's third largest city, which has a population of 2 million, resulting in people fleeing from the business district to find higher ground as the Wivenhoe dam failed to control the floods.
At least 66 people remain missing from the flash flood that struck without warning in the city of Toowoomba, 70 miles west of Brisbane, carrying away families, buildings and cars - but grave fears were held for the residents of smaller towns in the nearby Lockyer Valley.
Brisbane's Lord Mayor Campbell Newman, warning that the upper reaches of the Brisbane River had burst their banks and water was heading rapidly towards the city, said that an estimated 6500 properties will be flooded in his city.
Lord Mayor Newman described the situation as 'very serious' and explained that the next few days will see a large-scale disaster unfolding across the city, ahead of
an expected peak in the Brisbane River on Thursday.

He said: 'Wednesday is going to be bad and Thursday is going to be desperate
. Thousands of homes will be affected.'
The Wivenhoe dam, built after the infamous 1974 floods to protect Brisbane, is currently full, and dam managers have no choice but to continue with increased, controlled releases.
'It's going to come down the river to the city of Brisbane and there's not much dam managers can do about that,' said Newman.
'We have a grim and desperate situation,' said Queensland Premier Anna Bligh as Army Black Hawk helicopters lifted hundreds of people from rooftops where they had waited anxiously through the night with the powerful wall of water threatening to sweep them away.
Prime Minister Julia Gillard, who is being constantly updated on the drama, warned: 'The nation does need to brace itself for the fact that the death toll as a result of yesterday's flash flooding and walls of water is likely to rise.'
Hilltops have been turned into islands by the water which in places is expected to become 60ft deep and rival devastating floods that covered Queensland 37 years ago.
Rescue teams, government officials and families have been left in a state of shock by the devastation caused by the Toowoomba flash flood which created scenes likened to a Hollywood disaster movie.
Cars were tossed about like corks, a railway line was buckled and homes and walls tumbled. What was left, said one local resident, was like the landscape in a war zone.
Horrifying video pictures have shown survivors clinging to trees and posts while others gripped rooftops hoping they would not be swept away. Screams of desperate people could be heard in the background.
'We are now mired in a very different sort of disaster,' said Miss Bligh, who had already been masterminding rescue efforts in earlier flooding to the north of Brisbane.
'This is testing our emergency resources and it will test us as a community and as people.
'It might be breaking our hearts at the moment, but it will not break our will.'
The weather was so bad in the Lockyer Valley today that rescue teams, either in storm-battered helicopters or on the waterlogged land, were unable to reach many properties.
'Many of the people who are stranded or unaccounted for are families and young children,' said Miss Bligh, who has promised to keep the nation updated every two hours.
'They span from the very young, right through to the very old, but we do have some whole families who, at this stage, are unaccounted for.
'Until we get our emergency people into those areas, we really can't give you anything more certain other than to say in all honesty we hold very grave concerns for a number of these people who are not accounted for.'
Residents in the Lockyer Valley who are able to get away from their homes were urged to leave for higher ground immediately as weather forecasters predicted more powerful storms and torrential rain to strike in the next 24 hours.
'I have to say we're daunted by the scale of this flood disaster,' said Deputy Police Commissioner Ian Stewart, warning it was going to take some time to reach people in isolated areas.
In the town of Ipswich, 24 miles west of Brisbane, residents were told to start moving to higher ground as rain continued to lash down on the area, causing rivers and creeks to rise rapidly.
TV reporter Alison Fletcher, standing on the edge of a river at Ipswich as she sent in as live report to Channel Nine said that when she began her report the water was a foot behind her and now, two minutes later, it had crept up over her ankles.
'This is how fast it's rising,' she said, warning that the water was heading towards Brisbane.
At least 10,000 Brisbane homes were expected be inundated by flood waters over the next 24 hours and thousands of people began filling emergency evacuation centres. Thousands more fled the city in their cars hoping to reach their homes and try to make them secure before the expected flood rushes in.
As grave fears continued for those still missing from the Toowoomba area witnesses to the disaster told of horrifying scenes. Panel beater Colin McNamara told how he and a group of residents tried to get ropes to two women before they were swept away.
'They were petrified - absolutely petrified. They were wet and basically pleading for help. They weren't saying much but you could see it in their eyes,' he said."
Here is a photo of Margaret and Stephen in Sean's garden during a visit: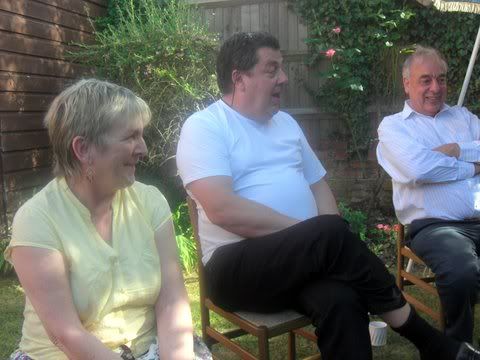 And at the Spotted Dog during the same visit