It was Ryan Nortier's funeral today at 11am South African time, 9am UK time. Trish, his mother, wrote and read the following Tribute to her lastborn child:
I have written a tribute to Ryan – whose name means KING and DEFENDER OF MANKIND!
Ryan was born on 28 March 1988

here at Vergelegen Mediclinic.

He was our third son and although he had been our surprise package from God, we were thrilled to welcome him into our family.

We belonged to the Methodist church at that time and he was christened there.

We lived in Heldervue until he was 19 months old and then his Dad, Graham, was transferred to Durban.

Three months later Graham died very suddenly and boys and I moved back to Somerset West as I felt that our roots were here and I needed to be near friends and family.

We didn't go back to the Methodist church at that time but joined New Gen until 1994 when we joined HCC.
Ryan became a Christian when he was about 5.

He told me that he believed that Jesus died for our sins and asked me to pray with him and ask Jesus to come into his life.

Ryan was nearly always the one who quickly volunteered to say grace before meals.

All through his life he loved to pray for others.

Recently when he was a leader at the kids camp there are several photos of him praying for the kids, and I am told he taught them something called the awesome superman prayer.
Ryan started play school at Chatterbox when he was 4.

I am not sure if sending him there started the trend or if it was just co-incidental that Ryan became such a motor mouth.

So many people have so many stories to tell of the VOLUMES which issued from his mouth.

He always had something to say, in every situation, sense or nonsense, and his convoluted brain came up with the most unusual things.

After that Ryan attended Die Wingerd Pre-Primary,then Beaumont Primary and later Parel Vallei High School.

I don't think Ryan was ever one of those who said with fervour "schooldays were the best time of my life".

He never did any homework or projects and his teachers all wanted to tear their hair out because each and every one of them used to say the same thing: "We love Ryan so much and he is such a pleasure to have in class, BUT, we cannot get him to do his school work". There were far too many other things occupying his mind and his time.

He had been diagnosed with an eye problem which made reading very difficult and I am pretty sure that Ryan never read a single one of his prescribed books.

This however seemed to magically change once he left school and chose to study computers, something which he had always been interested in.
Ryan is the little one in the middle
The highlight of every year was the school holidays, specifically the summer holidays. The two main reasons for this were summer camp and freedom to do things to his hair. Adrian had started this tradition in our household and Ryan took it over with such exuberance.

That mop of hair has done more than most people would dream about.

It has been shaved to the skull, long down his back, it has been peroxided, highlighted, braided, straightened had patterns cut into it and bleached into it, he had a chess board once of brown and white squares, he has had stripes, pony tails, Mohawks, spikes, and of course the odd day when he actually looked normal even though he does not seem to have owned a brush or comb of his own.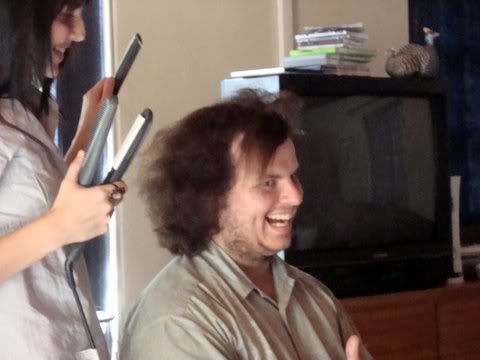 Summer camps were another story, he attended camp every year and each time he would come home completely exhausted, on top of the world, filthy from head to toe and with no voice left.

One summer I received a call from him at camp asking my permission to be baptised.

He felt it was time to make a stand of full commitment to God.
Ryan loved helping others and being useful. One of the first projects he got interested in was our friend, Pat's Pottery Studio.

One of her outlets was the craft market and he used to love spending Friday night at her house to be up at the crack of dawn and help her go down and get her stand set up.

He was well loved by all the regulars there who got to know him well over the years.

Pat tells me that, even though he has not done any markets for several years, at last Saturday's market she was overwhelmed, as the news had spread and dozens of crafters sought her out to offer messages of condolences.
Later as his interest in computers and things electrical and electronic grew, he was always the first phone call everyone made when they needed help.

Computers, vacuum cleaners, washing machines, hot water geysers, the list goes on.
During his matric year, I persuaded my bosses to get him to write me a computer program which would simplify the process of billing our patients and tying the correct nurse payment into the billing process.

He rose to the challenge and it has made my life so much easier, saving me days of admin work every month.
Around this time Ryan decided that he wanted to do an FYP year – this is a program which our group of churches has put together whereby one can give anything up to a year of your time to volunteer to work in a church, while doing some training blocks of practical and theological training, counselling courses etc.

For various reasons he did his year at his home church, here at HCC.

It was a year of enormous challenges, stress and growth for him, but it was a year of joy as well as just after he completed his matric, Ryan found his first girlfriend, May. He was totally in love, spending every available moment with her.

But once again his studies as part of his FYP year got him into hot water – he just could not get to those BOOKS!

However, I am pretty sure that anyone who spent any time around him will agree that one thing he did do really well that year was to serve. He was doing sound for every meeting held in the building, he did maintenance work and ran errands, he was on Sunday school duty and helped with preparation of the kids work and the youth group, and I am sure that there was more that I don't even know about.
His decision to study computers came as no shock.

He was given a job with a UK

internet service provider doing remote support, at the same time he was given a couple of hours study time per week and expected to read through huge volumes of text books towards writing the exams he needed.

Here the magical change occurred and suddenly he could read!

He devoured the books and completed 2 courses with very high marks.

Whilst working for them he was offered an amazing opportunity to go to England and work there for a while.

He ended up staying for 3 months and had a wonderful experience and a period of deep spiritual growth.

It was a great shock and disappointment to Ryan when they closed their South African branch and he was made redundant.

For the next few months while he was between jobs, he had a great deal of free time.

Much of this was used doing practical things for friends and family, repairs and installations of computers, more appliance repairs and most importantly helping me move our office premises.

He installed all the networks, researched and advised us regarding telephone systems, moved all our computers and arranged all the new cabling for power for our offices.

Once we were settled in he threw himself into a serious spurt of job hunting and was really excited to have been offered a position at the Grove Group, where he has been very happy for the past few months.

Whenever anyone asked him how he was enjoying his new job, the answer was the same: "I LOVE my job!"
He was thrilled when he was given permanent contract and immediately decided that instead of buying himself a new car, he would take mine and buy the new car for me, just another example of his generosity and selflessness.
Ryan was a joyful person with a really wacky sense of humour.

He was great fun to have around and always game for a laugh and a gag, the life and soul of every party, but he also had such a tender heart.

He was always there for anyone who needed him, practically, emotionally or spiritually.

His hugs are legendary.

He was unashamedly affectionate and loved to hug anyone who needed it – it was his standard greeting for nearly everyone who knew him.

He never left the house or came home without a kiss and hug for me, every greeting ended with: "I love you".

It is hard to believe that all of this could come in one package, but I can honestly say that Ryan was an exceptional young man.

You only needed to meet him once to know that.

One glance at the Facebook group will tell you he had a huge impact on SO many people's lives.
It feels to all of us that his life was too short, but I know with a deep assurance that if God has taken him now, it is because Ryan has already fulfilled his life's purpose.

It may take some of us 70 or 80 years to do that but Ryan has managed to do it in 22.

We will all miss him terribly, me especially, there is going to be a huge gap in my daily life as Ryan and I were very close.

My heart is broken, I am so sad that he is gone, but I can say with assurance, I trusted God with Ryan when I dedicated him as a baby and I released him again into God's hands as I sat beside his bed.

I know that we will see each other again.
Rest in Peace, Ryan