Caelyn is studying for a Certificate to be a Learning Support Assistant to work in a school. She does her Work Experience at the local Primary School, and she is a girl who knows she isn't Einstein, so she simply works harder. At school there were times when the staff confiscated her books because they felt, quite rightly, that she needed some fun too.
She is loving being on this course, and her Tutor has already strongly advised her to enrol for the Diploma course starting in March or April. She is working really hard on her assignments and her Tutor is very pleased with them, even though Caelyn is working ahead of the syllabus and researching the questions and handing in answers to stuff not yet covered in class. She has told Caelyn that she is working too hard, but I don't see how she is going to get Caelyn to do less work. She is due for an in-work Assessment on 13 December, and I'm sure she will do well.
There will be a child care problem when she starts the Diploma, because childcare is hellishly expensive and she can't afford to pay for the extra hours of child care that Teresa Jayne will need. The Government will fund a certain amount of hours, but not enough until after her 2nd birthday. Nigel is at work, Michelle is likely to be working away from home for weeks at a time and my mother will be in South Africa then. I can do some of it - and would love it. But the sad reality, whether I like it or not, is that my health won't always allow for looking after a little one. She is a very sweet child and she loves looking at photos, so I could show her some of those. The weather will be better then so perhaps we could go for walks in the gardens. Benny will be a help too because those two have a great bond.
All I know is that everyone is behind Caelyn on this and we will all do all we can to help her to get this qualification that means so much to her. She is already proud of herself, as well she might be. She is also still running the house, being a wife and mother as well as a good neighbour and friend. Here she is with her babies: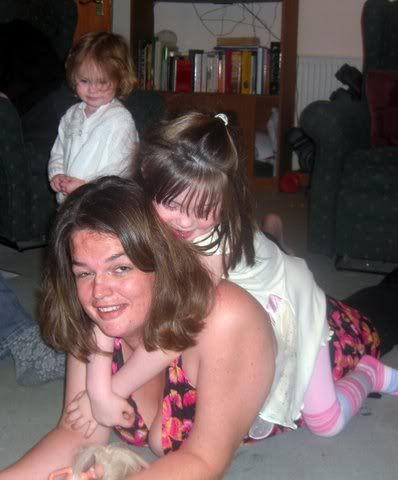 We all wish you well, Caelyn, and will do all we can to help you follow your dream.