It's Thursday night, and this time just one week ago, I was all excited about going up to Norfolk to go and get Benny. I began thinking of all the new experiences the little chap has had this week, and I thought I'd write them down before I forget them.

Friday: He met Nigel and me, then said goodbye to Rachel and his canine relatives, went for a walk in Great Yarmouth, then had the longest car journey of his life. The trip was prolonged due to a lorry catching fire at the Queen Elizabeth Bridge at the Dartford Tunnel, and during those hours with him on my lap, I felt a bond grow between us. He saw his new home for the first time, and met Michelle and Madam Spikkledy. Michelle fell in love with him as quickly as I did.

Saying Goodbye to Rachel



Saturday: He met Caelyn, Wendy, Teresa Jayne and their dog, Belle. They didn't get on very well at first. Caelyn went to get my camera from my bedroom, but he barked and wouldn't let her near my stuff. Sean came later, and they started to get to know each other. We went to Mass in the evening, and Michelle said he sat by the door looking miserable until we got back. At about 3am, Michelle got up to go to the bathroom, and he raised the alarm that someone was moving around the flat. It is interesting that after such a short time he knew that this was his home and that it was his duty to defend it. He was quite happy once he realised that it was Michelle. She played with him and he loves games.

With Nigel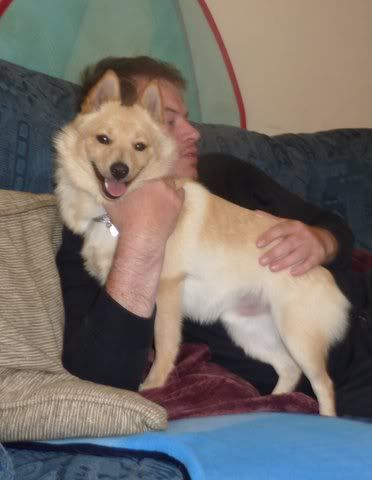 Sunday: Sean and I took him out on the Leas in the morning, and in the afternoon we met Caelyn, Nigel and the kids at Lathe Barn. As soon as he heard Wendy's voice, he perked up and looked forward to a game. When she was playing on the swings, he barked at some bigger boys who came along and wanted to swing too. He even let Teresa Jayne take him for a toddle – with her mum controlling the tension on the lead, of course. I'm surprised that he realised in such a short time who was in the family and who wasn't.

On the Leas with Sean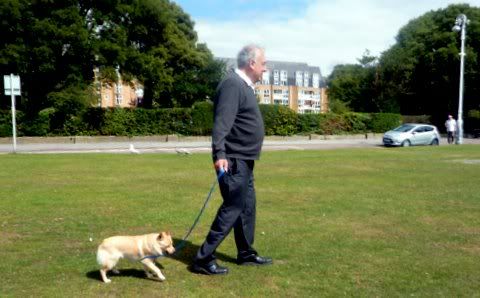 A Toddle with Teresa Jayne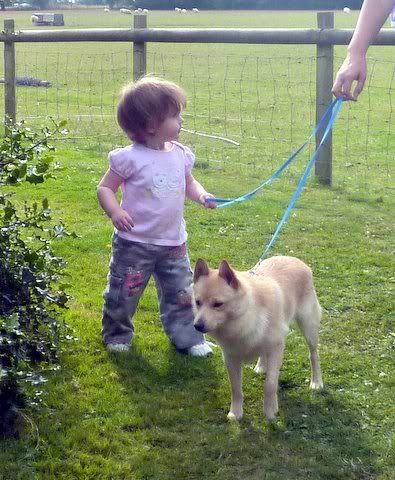 Going with Wendy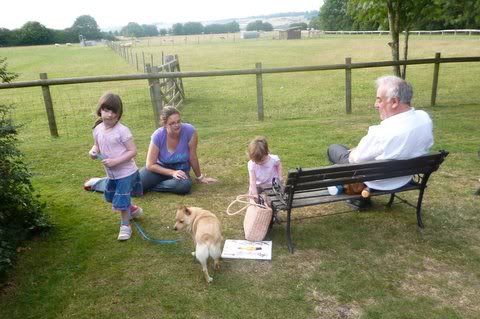 Monday: Michelle took him to Iceland and Sainsburys and said he didn't approve of other people walking on his pavement. Lisa came round to meet him, and Caelyn & Co were here with their dog, Belle. This time the two dogs made friends and had fun chasing around together. We have been given an extending lead that keeps a constant tension so he doesn't get it tangled up in his legs like the other one did. It smells though, so I will either have to work out how to de-pong it or get another one. It's definitely the right thing for him. Also, he prefers a collar that doesn't let his name tag dangle on his chest.

Tuesday: He discovered Augusta Gardens, and went to town. He and Madam Spikkeldy are OK with each other, and she let him eat at her bowl while she was eating out of it. She is astonishingly tolerant of him. Generally, she doesn't approve of dogs, and she was very nasty to Lisa's dear old Jake and to inoffensive little Belle. Caelyn and the kids were here, and Benny had a great time romping around with Wendy, who was throwing toys for him to fetch.

Helping Caelyn on the Computer



Wednesday: He went on a train, had his first visit to Sean's house and had his first visit to a Pub. It was the Carpenters Arms at Hadlow. He also met Tony and Diana Taylor, who have been Sean's neighbours for 30 years or more.

In Sean's Garden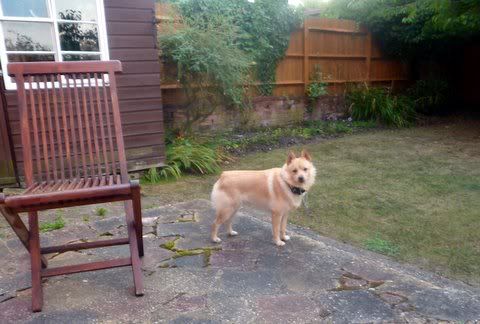 At the Carpenter's Arms


Thursday: He went on a train again, and out on the scooter and for a walk to Tesco (which nearly did me in. I had to rest on a bench on the way back). He met Lisa again and supervised while we cooked Moussaka.

Lisa and her Moussaka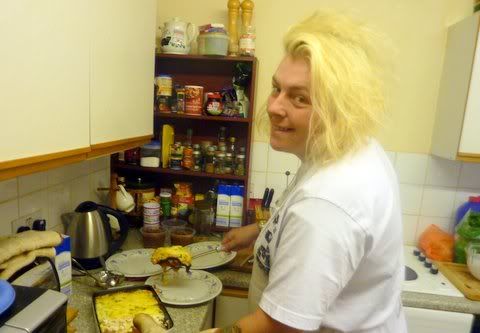 So, it's fair to say that the little guy has had a lot to deal with in this very eventful first week in Folkestone. He loves the kids, he loves to play with his squeaky mouse, bite the blue bunny and toss the knitted elephant into the air. Shoes are not safe – he loves them. And just like Brakkie before him, he carries all his 'treasures' out into the passage for everyone to trip over.

He is very cute, bright and loving, and he wants to please, so he learns quickly. He will be going to a Dog Training Course for Small Dogs in September, and I'd like Michelle to take him as she is fitter than I am and it will grow the loving bond that is already between them. He loves her and she is soft on him too. She plays with him, talks to him and takes him out. I don't think it is wise for him to have a close bond with only one person; he needs a wider range of relationships so that he won't be too upset if someone else has to care for him for a while.

And Michelle was so good with Brakkie when he was so ill. When he had diarrhoea as he was dying, she gently, tenderly and kindly cleaned him. She slept with him in her arms, and she stayed up watching over him and comforting him. She was so loving, tender and unselfish. She was devoted to him and his well being, and a friend like that is a big asset for any dog. It made all the difference to Brakkie and little Benny needs a loving friend like that too.