I struggled to open my door to let the dog out today as the snow was so deep.  I stuck the mop handle into the snow and measured it and it was 8.5 inches or 21.5 centimetres. 
My mum did the same thing in Hythe, and hers is 10 inches or 25 centimetres.  She and I have supplies and are both OK.  More heavy snow is predicted for later today.  The M20 is closed.  The A20 is blocked at Roundhill Tunnel.  The schools and just about everything else is closed. 
Nigel tried to go to retrieve the car he had to abandon in Capel le Ferne last night but he had to turn back.  The snow is up to his knees, and he had to dig the door open so the dog could go out for a wee.  Hawkinge is always more severely affected than here because it is high up on a ridge. The scary thing is that their gas and electricity is on a prepay meter.  To top up you have to physically hand the "key" over to be swiped through a machine, and the nearest place that can be done is in Spar Folkestone, and there is no way they can get there.  The company says the meter can be over ridden but that an engineer has to physically do something to the meter, but of course there is no way an engineer can get to them.  Caelyn is being very very careful in rationing their use but with two very young children, it is really scary. When the credit expires, the electricity or gas is just cut off, like a mobile phone running out of credit. 
It is snowing again right now and heavy snow is predicted for later.  HERE is what the BBC says:
Snow in Kent causes danger on roads and school closures
Heavy overnight snow in parts of east and south Kent have lead to hazardous driving conditions and school closures.

At least 10cm (4in) has fallen in some areas and strong winds have caused drifting in places.

The weather has caused problems for motorists using the M20, A2 and A258, while rail passengers have been warned to expect delays and cancellations.

More than 160 schools in the area between Margate and south of Ashford have closed for the day.

Stranded ambulance

The snow started falling on Wednesday evening, with many drivers taking hours to get home.

Dover's coastguard was called on to help dig out a stranded ambulance in the town.

A spokesman said four of its 4x4 vehicles were helping to transfer staff and patients to and from hospitals in Eastbourne and Hastings, in East Sussex.

I took these photos at 10am today, but it is snowing again, so these won't stay current for long.  When I measured it, it was 8.5 inches or 21.5 centimetres deep.
Beautiful, but ...
I have a
Photobucket Album called Winter
and I will keep adding photos to it. If you'd like to see it, click
HERE
.
----------------------------------------------------------------------------------------------------------------------------------------------------
It's now nearly 1pm. It is still snowing. I'm going to post a photo of my footprint so you can see how deep it is. As the contrast isn't too clear, I added 'contrast' so you get a clearer view, but it has messed up the colour. Still useful though.
And there is no way I can get the scooter out
The back garden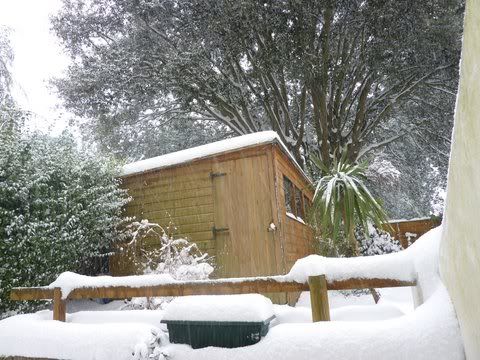 You can't even see the steps here

Silent Street