Nigel finished College at 4pm, and at 6.30, Caelyn phoned in a right panic and said he wasn't home. He can call me for free on my Vodafone but she wasn't sure if he realised that, and she didn't think he had any credit. So I sent him a text reminding him of that, and he called me to say that he was nearly home and shattered, and would I ask Caelyn to put the kettle on.
She called back later. The A20 was closed by Police and traffic was rerouted through Capel le Ferne. It is a hilly area and there was so much ice that the cars were skidding and sliding all over the place. Eventually, Nigel had to abandon the car and walk. I'll post a map below, but the journey on foot is 3.5 miles or 5.65 kilometres. It takes just over an hour in good weather, but Nigel was walking on ice, uphill and in a blizzard.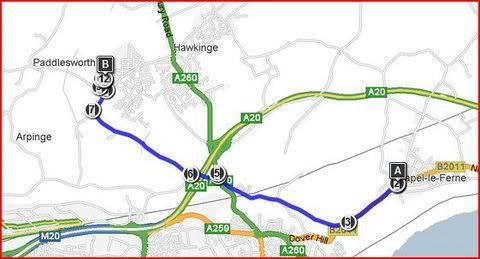 No wonder he was shattered. I'll post a couple of my snow pics from today. Please remember that Hawkinge is on a ridge and the weather is always worse there than in Folkestone. Caelyn can't open her back door because of the snow. I'm glad they did grocery shopping on Tuesday.
Nigel will have to retrieve the car early tomorrow if possible because Police are towing away abandoned cars and it costs a fortune to get them back. See story from January
HERE
Also, we have had a shortage of rock salt to grit the roads with, which is one reason why Nigel had to abandon his car. It couldn't cope on the very slippery ice. However, we are told that grit is on its way. Not before time though. See
HERE
with the hopeful headline of
The SS Grit Britain is on its way: Tons of road salt shipped here as more heavy snow is predicted
. And the Health Service has given money to the Council to grit the pavements so that it won't have so many patients to treat. See the story
HERE
. Headline says "
'Struggling' NHS gives council £1m to grit pavements... so it has fewer patients to treat in winter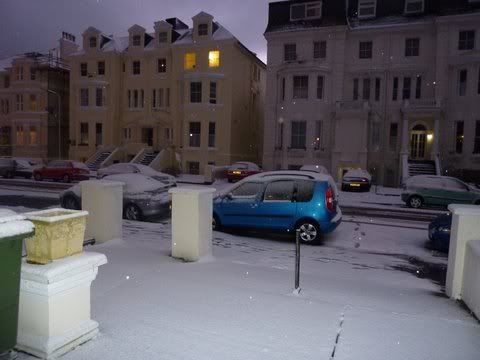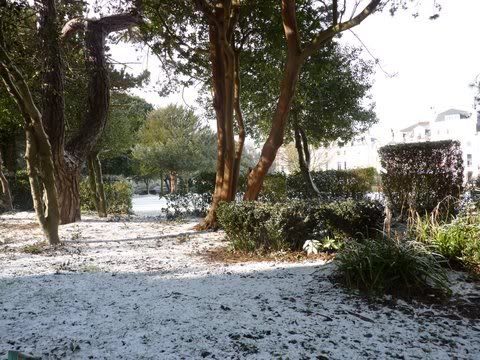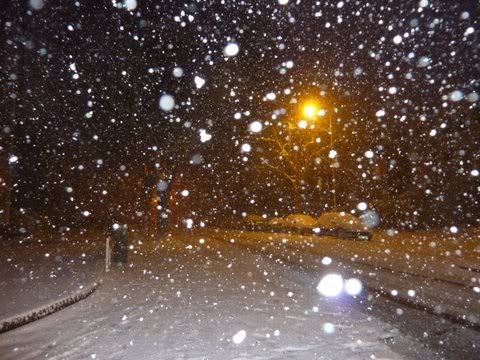 Look carefully at the scooter and see how much snow is in the front basket. It doesn't look much, but bear in mind its only about 200 yards from where I live. It was pelting down, hard balls of snow, and with the strong wind, it was falling horizontally at times. My wheels were spinning in Bouverie Rd West, and I decided I couldn't risk going to Sean tonight, even though according to the National Rail website, the trains were running normally.
I checked the weather report for where Michelle is, and its much the same as Tonbridge - no snow expected.