Sean bought me a new camera for Christmas/Birthday combined. I did a lot of research and we decided on a Panasonic Lumix TZ6. It doesn't have the video feature that the Casio did so well. I loved that Casio very much. Its hard to make a real mess of a shot with that camera, and I'm giving it up very reluctantly. Ages ago, I dropped it with its lens open and it buckled and would not retract. I took it to the camera shop where I was told they don't fix 'cheap' cameras. I thought if that was the case, I have nothing to lose, so I forced it back manually and much to my delight, it worked again.
There was trouble with ghosting on the left of a photo and it made whites so bright that they drowned out the subject. So if I took a photo of Sean in a white shirt the very brilliant white 'spread' so you couldn't see his face. It refused to work on a couple of programs and it would turn itself off just before a shot or the LCD would remain black. I've managed to sort out most of those problems but it still has its hissy fits.
The Lumix is a much more 'grown up' camera. It has an 'intelligent' mode where the camera does the thinking for you but there are many manual settings you can use as well. I'm not even finished reading the instruction book yet. I have a huge amount to learn and it will be fun. I'm going to post a few snaps taken with the new camera, and I hope you like them. These were all on the camera's 'intelligent' mode.
Madam Spikkeldy asleep on my bed. My sister made me the quilt with the caption "My sister made me a quilt but the cats think its theirs" Well, that cat looks as if the very idea that it might not belong to her would never enter her head.
Wendy in her pink finery. She even has a pair of pink Doc Martins on her feet.
Caelyn and Teresa Jayne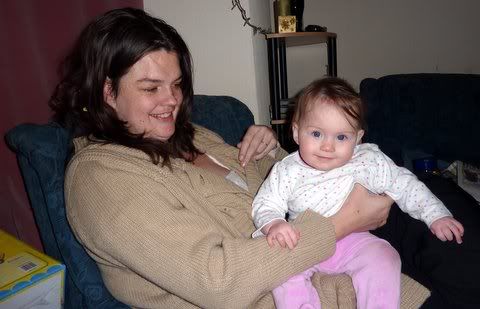 Come into my Parlour, said Wendy
Two little girls in their 'house'. See the static electricity in their hair. And if you look at the shapes of their chins, jawlines, cheeks and noses, the family resemblance is pretty clear.
Teresa Jayne - have bear, will travel
Something funny was going on here. I know that look. Mischief in the offing, if I'm not mistaken.