My sister Melanie has 3 sons, 3 cats and a husband, and they live in Auckland, New Zealand. She is petite and feminine and her sons are huge. She and her cats and husband are moving to Waiheke Island, but her sons are studying or working in Auckland. Her husband, who is an electrical engineer, has been working in Australia on a contract job. Peter is willing to help, and he does when he is in New Zealand. With the credit crunch, nobody can turn down a job. Willing though he may be, he can't do anything if he isn't there.
Here are Mel's boys. The dark one on the left is the 'baby', Thomas. Next to him is the oldest boy, Wesley, and next to him is Luke. Wesley and Luke share a flat, and Thomas is in student accommodation.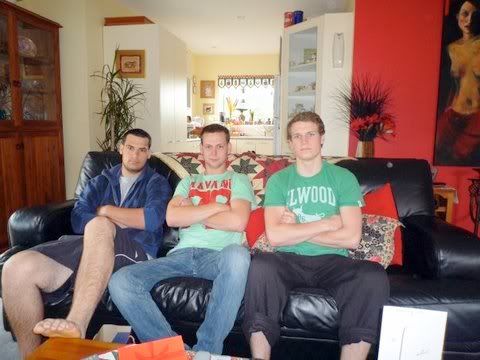 So, moving at the best of times is a traumatic upheaval. I hate it. But spare a thought for Mel, who is in delicate health and has had to do / is doing - the following :
a) Prepare her house for viewing while messy blokes are in residence
b) Find two of the boys a flat and furnish it and help them pack and move in
c) Pack up the youngest and move him into student accommodation
d) Pack up her house and prepare it for the new owners
e) Deal with cats and prepare to move them too
f) The new house needs a lot of work done to it. And its a 40 min ferry ride from the mainland.
Her cat Chloe does not approve of all the upheaval, and showed her disgust by moving on to the ceiling fan. Mel will have trouble with her cats - they are conservative creatures who do not enjoy change. Chloe is a Cornish Si Rex. The other cats are Duchess, who is grumpy, and her son Zeus, who is a soppy cuddle cat. They are both black moggies.