Wendy has hair that is long, beautiful - and prone to tangles. We had tried a spray called Tangle Tamer on her hair and it helped a lot. When I went back to buy more, there was no stock in the shop, so I bought the shampoo and conditioner from the same range, which promised to moisturise and calm frizz prone hair. Caelyn tried it on Wendy tonight, and oh! Disaster!!
Caelyn said it was weird; she could see the change in the hair happening before her eyes. The shampoo chemically burned the hair, turning it into a straw-like birds nest. She tried to fix it but it couldn't be fixed. She had to get the scissors out and hack away the matted nest of tangles. Wendy will have to go to the hairdressers tomorrow.
I feel terrible because her hair is ruined by something I bought in good faith. Caelyn is gutted because she put it on Wendy's hair and ruined it. And Nigel isn't too pleased either. I told Sean, and he was very upset too.
See how pretty her hair was?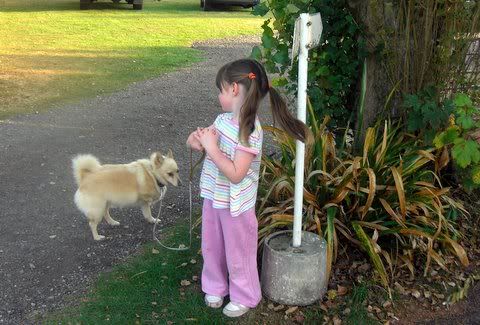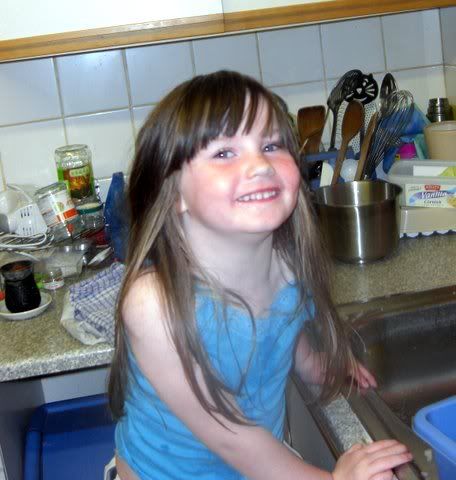 Just imagine how we feel about this! Our beautiful little love! She hasn't been well either, as she picked up a bug at Nursery School
and
she has an outbreak of dermatitis (which is clearing up with the cream her Dr prescribed).
She enjoyed her swimming lesson, and was going under the water today, and she is learning to float. The teacher's hand wasn't supporting Wendy, and Wendy didn't notice at once. She is doing brilliantly.

Other News
Michelle

is enjoying her Ellel course but is finding some of it unsettling and tough going, so spare a thought for her. She is facing things she would rather not face, and it is hard - as she knew it would be. She needs some supportive prayers.
Here is the web page showing where she is
My mobile has died. It worked fine at Caelyn's today. I put it in my inside coat pocket and when I got home, it had turned itself off and would not turn on again. I tried charging it - no joy. So I took it apart, battery out to see if it would reset after a few hours. It didn't. So you cannot get me on my O2 number. I will put the sim card into my other handset from time to time to check for messages, but if you need to contact me in a hurry, your best bet is email or my vodafone number ( the so-called Emergency number I gave to those who might need it ). I'm really flat about it. I will have to get a new handset, but I want one that has mobile internet on it as I use that quite a lot, especially when traveling in unfamiliar places.
I must be patient because I often say that if a "thing" means too much to you, you probably shouldn't have it. If it's loss affects me unduly, it has too high a priority. The gospel says "birds of the air have their nests, foxes have holes, but the Son of Man has nowhere to lay His head" And St Luke says this in Chapter 12:
And he told them this parable: "The ground of a certain rich man produced a good crop. He thought to himself, 'What shall I do? I have no place to store my crops.'

"Then he said, 'This is what I'll do. I will tear down my barns and build bigger ones, and there I will store all my grain and my goods. And I'll say to myself, "You have plenty of good things laid up for many years. Take life easy; eat, drink and be merry." '

"But God said to him, 'You fool! This very night your life will be demanded from you. Then who will get what you have prepared for yourself?'

"This is how it will be with anyone who stores up things for himself but is not rich toward God."

As I said. A question of priorities.