Yesterday was Sean and my 11th Anniversary.  It has been a wonderful 11 years, and we will stick with each other until Journey's End.  This relationship has done so much for both of us and we are both grateful that God brought us together.  There is much comfort in knowing someone through and through.  I do not have a good relationship history; quite the reverse.  It s hard to remember the old 'me', but I know I was completely cynical about men and actually disliked them as a species.  I suspected that they had the worst of motives and that they were all the same.   
Sean is consistent.  What he liked today, he liked last week and will still like next week.  When he is tired and irritable, he does not take it out on anyone else.  For the first few years, I waited for his bad side to show itself; now I realise he hasn't got one.  He is a truly good, dependable man who lives his life in integrity and honour, and he is deeply loyal.  Learning to know him has been a wonderful and precious thing, and it has healed up those old wounds caused by others.  And now that I know a good man, I have been pleasantly surprised to have met many more.  They are mostly his old school chums, but when Sean has a friend, he works on maintaining the friendship over the decades.  Knowing him has changed me and my life for the better in countless ways, and I thank God for sending him my way.
First, there was my favourite flowers, a bunch of yellow roses and some chocolates.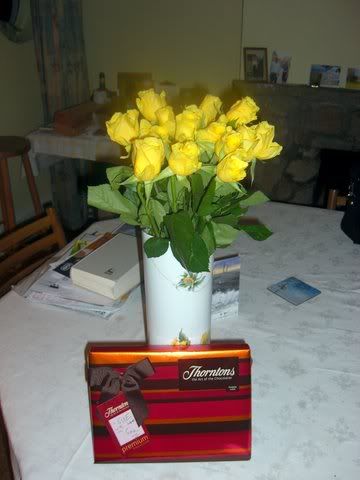 We celebrated our Anniversary at the Portugese Restaurant in Hadlow, which was up to its usual excellent standard.  It's our first choice of restaurant for celebrating something special . 
At the restaurant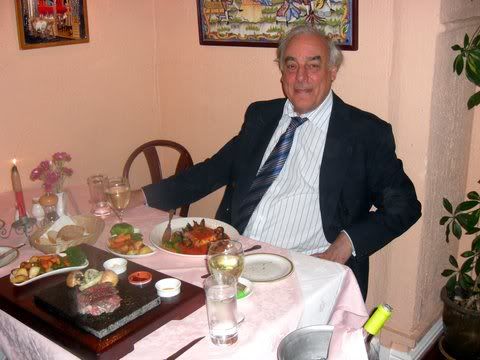 Sean having a word with that Brak about his dinner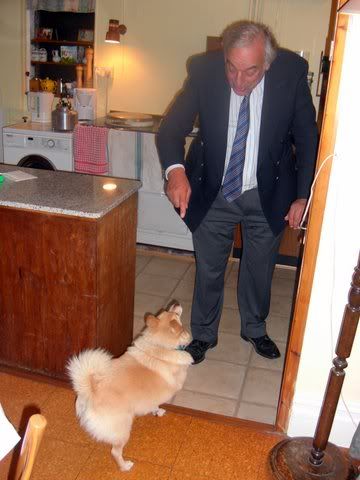 As I mentioned, I have been in relapse all week.  I managed to go out after a lot of rest and a handful of pills, but today I'm back in bed with aches and pains and needing to sleep.  I was happy in this photo, but not full of energy.   Today there is even less, but I am happy that I have such a lovely Sean and such a dear Family.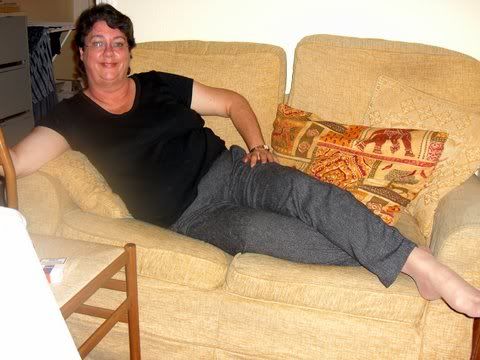 Finally, I want to add a link to the restaurant's website.  It is called the Casa Portuguesa and the web address is http://www.casaportuguesauk.com/  Its a lovely place and its reliable.  If you take an important client there, you won't have to worry about substandard food or service because its excellence is consistent. Its a family run place and the Patron is attentive but not intrusive.