Oh dear, I am so far behind myself that I hardly know where to begin!
Last weekend, Sean's son Anselm came to visit him, so we adjusted our usual program. On Bank Holiday Monday, the weather was glorious, so we took Wendy boating on the Royal Military Canal. The cygnets we saw in May have grown up and although they are still brown, are just about the same size of the adult swans. Wendy had a great time, as did Brak, who enjoyed fulfilling his destiny as a pure bred Barge Dog sailing on a canal. After that, Wendy played on some swings.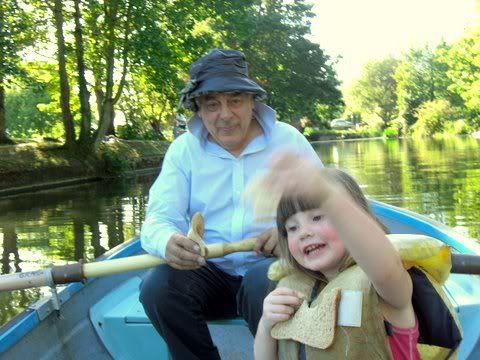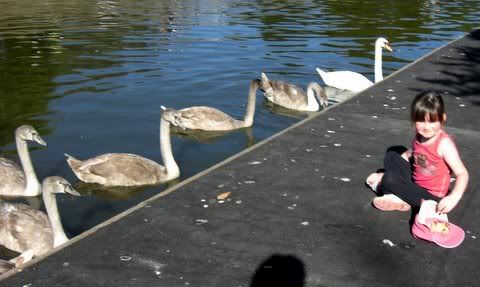 My Mum met us on the canal bank. We then went to the Hythe Imperial for a traditional Cream Tea. The gardens were lovely and Wendy could run around and play while we sat under an umbrella and could see everything she was doing.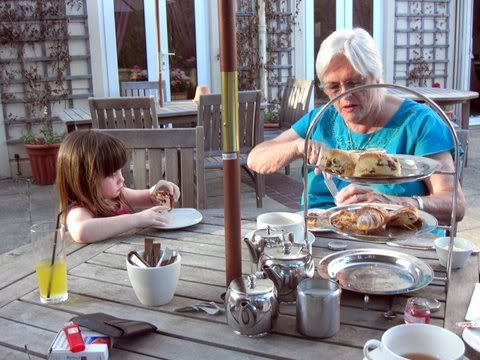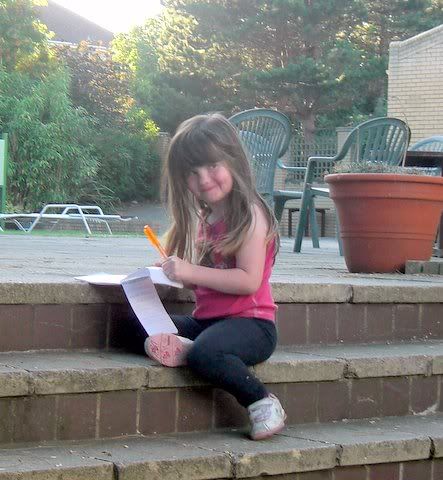 I think the best way to carry on with this post is to do it under headings of people's names, because I've confused myself completely.
Sean
This week, the two secretaries who were made redundant officially left, leaving Sean and Gabrielle to run the office. They are chasing up the Council hoping for the lease on the office to be reduced so that they can close the office. Difficult times for everyone. His daughter is turning 35 this month so he feels pretty ancient.  This was more fun: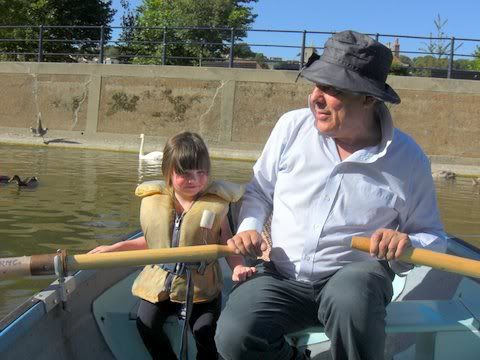 Michelle
The day after her birthday, Michelle moved in to her new flat, and it is lovely. The poor girl got sinusitis and bronchitis and felt so ill that she asked my mum to take her to the Dr, who gave her antibiotics and told her to go home to bed. When Michelle gets one of these
lurgies
, she gets it badly and it knocks her for six. Her glands are still very swollen and she is too dizzy to walk on her own, so Richard has to guide her to the bathroom. She blamed the antibiotic, but now that I'm actually writing this, I'm not so sure. The week before getting this bug, she had a nasty ear infection that was treated with ear drops. I couldn't understand that, because ear infections are notoriously difficult to treat. Patients need high doses of antibiotic because the ear has a poor
blood
supply. Antibiotics are carried to the site of the infection by the blood, and if the blood supply is poor, a higher dose has to be given to achieve the same effect. I haven't heard of
doxycycline
giving extreme dizzy reactions, but it is almost routine in an ear infection. Her glands are still swollen, and I have grave doubts about expecting an ear infection to clear up with drops, so I wonder if the ears aren't at the bottom of all this trouble. She should take herself off to the Dr again.
Richard
It is Richard's birthday this Sunday. Unfortunately, everyone is too broke to help him celebrate.
Josie
Josie has taken up Tunisian Knitting and has offered to teach me. It was nice going out to tea with her over the bank holiday.
Nigel
Nigel is getting ready to go back to college for his final phases. He and Caelyn are broke because of the car's MOT, new tyres, insurance etc, plus the coming college expenses.

Caelyn
Caelyn had a lot of dentistry done this week and has a new Crown that she is very pleased with.
Teresa Jayne
Teresa Jayne is 16 weeks old. She is a lovely contented baby, but her teeth are starting to bother her. She tries to sit unsupported and she can do it for quite a while before toppling over. Michelle is very allergic to bananas, but we let Teresa Jayne have a taste of her mum's banana, and her tongue turned dark navy blue and seemed to swell, so we have decided to keep her away from bananas for a few years. We aren't saying it was an allergic reaction; we are saying that the tongue swelled and went blue immediately and we didn't like it. Hence the decision. I think it should be mentioned to the Health Visitor when they see her next. 

She and Wendy are good together. When Wendy comes near, Teresa Jayne gets all excited and leans forward to her, kicking her legs, waving her arms and makes happy gurgling sounds.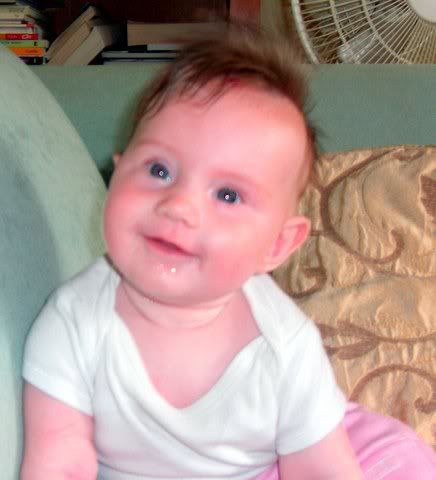 Wendy
Wendy went through a horrible phase but I am pleased to report that our dear little girl is back to her normal state now. I blame the long holidays. No toddler group, no Nursery school, friends away on holiday, Josie away on holiday, Sean and I away on holiday. Now that everyone is back and preparations are starting for a return to school, she is back to her sweet sunny self.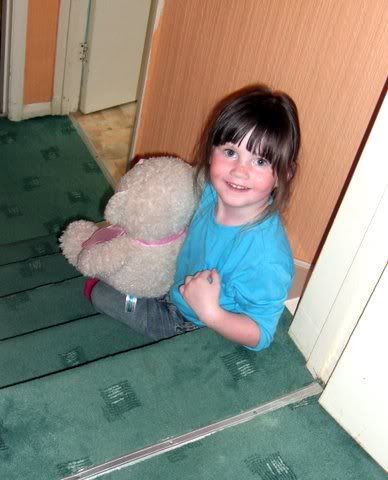 I have mentioned her outsmarting her parents with her problem solving skills before, so here is yet another example. It was raining earlier this week, so she wanted to play in Puddles.
Caelyn
looked at the garden and saw there were no puddles so she put Wendy's wellies on, and let her into the garden, thinking she was safe. She didn't really want her to jump in puddles and get dirty and wet because they were going out later. When
Caelyn
went to check on Wendy, Wendy gave a seraphic smile, from a big puddle of water, and explained to her mum that there weren't any puddles to play in so she had made her own by scooping water out of the rain barrel! 
Poor Nigel and
Caelyn
! That kid runs rings around them! It is very demoralising to be outsmarted by a 3yr old ;))
Sue
Has had far too much to do and far too little energy to do it. There are now hundreds of emails in my inbox that I haven't had time and/or energy to deal with. Will try to get round to it on Sunday night. I find I'm very noise sensitive at the moment and being exposed to completely normal noise jangles on my nerves and exhausts me. Oh well, I suppose I should be thankful that the nausea isn't too troublesome right now.
Folkestone
English people are fond of floral window boxes. If you could think of
the
most unlikely plants up high on the balcony of a block of flats in an English seaside town, what would you think of? Guess? Geraniums? No. Wait for it:
Mielies
/
maize
/
corn
.
Yes, truly - I kid you not. Photographic evidence below!