It was Preparation for Barbecue Day and I roasted two chickens in my oven as I don't feel OK about cooking chicken on a barbecue.
Wendy had had a busy day with my mum. Then, in the heat (it was terribly hot) she played in the Park. Then her folks took her home to bath and dress her for the dinner in the evening. She was so hyped up and bouncy that none of us thought how exhausted she would be.
We met Stephen and Margaret for dinner at 7pm, and at first it went well. After Wendy had eaten a bit, her tiredness kicked in and she began running around and crying when she was stopped. Eventually I said I would take her home but she had a full-blown tantrum then. Margaret had 'flu and really wasn't well. I'm starting to think that Michelle is right about that place being jinxed for us.
Here, she was still OK. She had been taking everyone's ice
to put in her glass so she could suck it.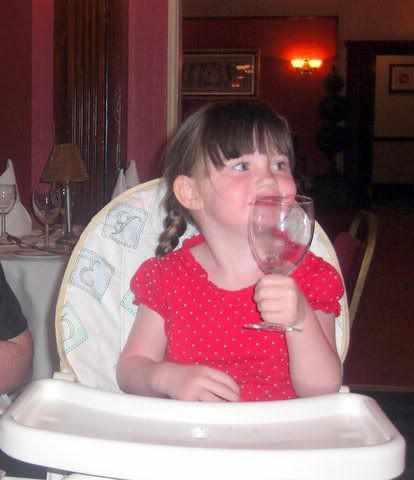 Nigel on Daddy Duty
I went home puzzling why Wendy had behaved so out of character. When I saw the time and realised that she had had a very busy day in temperatures of 30 degrees and that it was getting on for 10pm, I felt very bad. I hadn't been thinking straight. No wonder the poor little mite was beyond herself! She and I should have stayed at home and played Peter Rabbit instead. In all fairness, you can't expect a 3yr old to have a day like that and be full of polite smiles at 10pm. My sense of time is bad and getting worse, so I think I will use my mobile phone's Reminder section a bit more. I hadn't realised it was so late, and neither did anyone else. Poor little kid!