Today is my Mum's 74th Birthday.
Lives are always a "work in progress". A birthday is an opportunity for reflection. How far have you come? How are you living? Have your thoughts and feelings changed? Who are you?
My mum has had a difficult life. Born in WW2, at the age of 4, she was sent to boarding school in Lincoln to keep her away from the bombs. She trained as a teacher in Digby Stuart Teachers Training College, then met my very charming and very handsome father. She married him against her parents advice. Her parents, sadly, had been right. He didn't take to the responsibility of marriage and fatherhood, and the marriage didn't last.
She taught in schools and opened a Bed and Breakfast, which was hard work. One of her visitors had a husband seriously ill in the local hospital. She had a German Shepherd Dog who was at home in an outside run, with the neighbours feeding him. As the winter drew in, my Mum told the lady to bring the dog to her B & B, but that he would have to stay in the cellar, as my mother was frightened of GSDs. One cold night as we all sat around the fire while the lady was at the hospital, my mum felt sorry for the dog down in the cold. He was paralysed in his back legs, and she carried him upstairs and put him next to the fire. That was a courageous thing to do, as well as compassionate, because she was genuinely afraid. The dog gave his heart to her, and when the doctors advised the couple to live abroad because of the husband's chest condition, Bruce became ours. My Mum took him to the Vet for his paralysis, and it was an obscure thing like a Vit H deficiency. Bruce was treated and soon recovered. He was a faithful and loyal friend to us. Here is a picture of Bruce with my mum's departed brother Chris: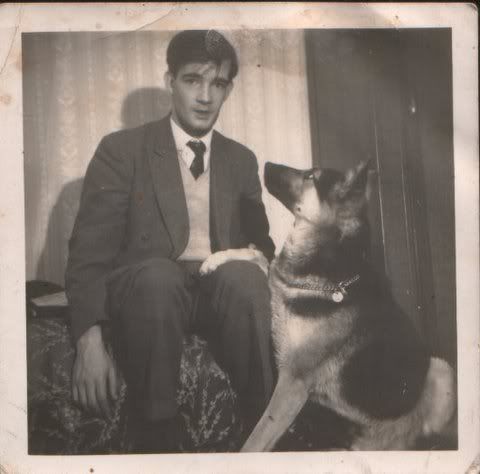 She married her second husband George, who turned out to be a most unpleasant person. They moved to South Africa, where my mother continued her teaching career. The best thing he did for her was to leave her a widow. He is one of the rare people who depart this life "Unwept, unhonoured and unsung".
She studied further in later life to improve her career prospects. She rediscovered Christian faith, which made a great difference to her. She enjoys going to the church she belongs to and she is really quite involved in it. She and a small team from church visit primary schools locally, at the request of school principals, to do puppet shows with a Christian theme during Assembly. Her teaching skills are still being put to good use. Its true that no learning is ever wasted.
Now, at 74, she is a happy widow, a mother, a mother in law, a grandmother of 5 and a great grandmother twice over. The photo shows her holding Teresa Jayne, the youngest member of the family.