Today the man on Tonbridge Station put me in the wrong carriage, and that was a problem because Folkestone platform staff would look for a wheelchair in the disabled section. The conductor sorted it out and made sure there was a ramp to get me off the train.
Then I went to have tea with Michelle and Richard. We watched the BBC documentary on 10 things you need to know about losing weight, and it was very interesting. After that I went home to rest. It didn't help though because I am just as tired and achy as I have been for a while.
My Firstborn
When Caelyn arrived, Wendy immediately began asking "where's Shell?". I let her talk to her Auntie on the phone and, with Caelyn's agreement, took her round to Michelle and she and Richard brought her back at about 9. There had been a mishap. Wendy had locked herself in the bathroom and got her fingers stuck in the sash window. She was crying and Michelle got Richard to force the door and they rescued her. Michelle said she snuggled in deep, knowing that Shell would help her. They put ice on the fingers then put a plaster on.
While Wendy was with Michelle and Richard, Caelyn had a long, peaceful soak in the bath. Its funny when you have a young baby. You need to bath because you smell of baby puke, milk and sweat, and both of my girls can't bear staying like that. They are fine about getting dirty but they also like getting clean again. When Caelyn had finished her soak, she added cold water to get the temperature right for Teresa, who enjoyed her very first Bath with Mum. She certainly seemed to enjoy it.
I'm going to post some pics I think are heartwarming.
Michelle with Teresa Jayne.
Just as if Teresa Jayne was their baby.
Wendy asleep on the sofa.
Richard is very good with these kids.
Richard watching over both children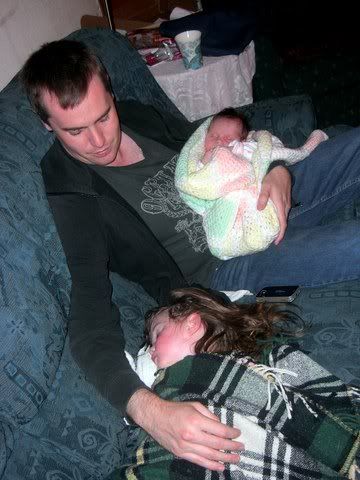 All my descendants in one photo