Caelyn has seen the first beginnings of a smile all week, so she has been playing with Teresa and trying to make her smile, but with no luck.
Today, Caelyn, Nigel, Wendy and Teresa Jayne went to Sean's for a lunch of roast chicken. Sean is scared to death of little babies because he always fears that he will hurt them by holding them wrong. Well, Caelyn gave her to Sean to hold, and guess what? Her very first smile, and it was for Sean. He was delighted, but Caelyn was a bit envious because she had been trying to get that smile out of that child for ages.
Wendy got Sean to play 'Tigers' with her. It involves lying on the grass pretending to be asleep, then waking up as a hungry Tiger and wanting breakfast. Then Wendy runs away and Sean tries to catch her to be his breakfast.
Being a sleeping Tiger: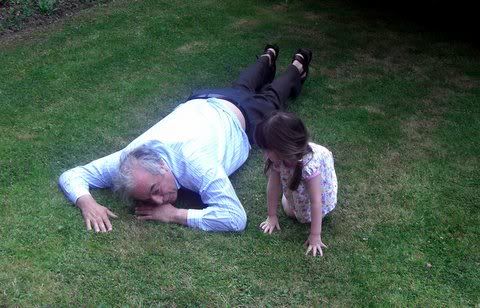 Waking up hungry and trying to catch and eat Wendy: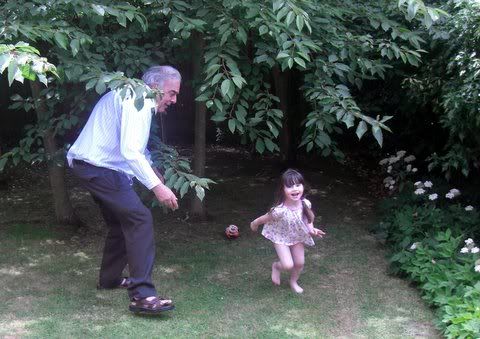 Nigel then had to wrestle with her.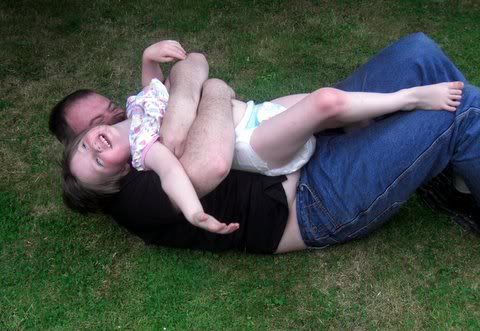 Teresa Jayne with her father:
Sean and Wendy played the Piano:
He played Fiddlesticks with her:
Then there was the "Tea Party":
When Sean phoned me tonight, he said that he loves Wendy dearly, but she is surprisingly exhausting! I had a good laugh about that. He said all he could do was to sit on the kitchen sofa and stare out at the garden without seeing anything for more than an hour. This is the man who was astonished to read in The Times that women looking after young children are habitually tired. He really has no idea what is involved in the running of a house and caring for small children.
Braai (or Barbeque) Plans
It was a lovely day though, and he and I spent a bit of time fine-tuning the plans for the Braai we are going to have on Sunday 5 July. My brother Stephen and his wife Margaret will be over on holiday from Australia then, and my kids and I haven't had a proper Braai since the early 90s. So this one is going to be very special, and we are tracking down special ingredients on the internet and finding sources of Boerewors.
I have a Boerewors recipe that I like and my local butcher makes it for me at a reasonable price. The kids don't like it though, so we have been looking for other sources. But if they haven't tasted the Wors from internet suppliers, how do they know they will like it?
One shop,
www.biltong.co.uk
has a good selection at a reasonable price. BUT - their postage is exorbitant. They say terms of delivery are up to 14 days and that meat is sent frozen, but they cannot guarantee that it will arrive frozen. Of course, once meat has thawed, it cannot be safely refrozen.
The other place,
The South African Shop
, is much more expensive but they guarantee next day delivery so the anxiety of worrying about a two week time period when Wors might or might not still be frozen doesn't arise. Also, their postage is much more reasonable.

Just compare the prices:
Ouma Buttermilk rusks at SA Shop is £3.49 and at Biltong it is £2.50
Koo Guava Halves 410g at SA Shop is £2.19 and at Biltong it is £1.60
Black Cat Peanut Butter 410g SA Shop £2.99 and at Biltong it is £1.65
If I'm going to try
biltong.co.uk
, the last day I can safely order is Thursday. I'm starting to get antsy. I really want this first Braai in 18 years to go well. If we have to wait another 18 years for a Braai, this one had better give longlasting good memories! Poor Sean has never had even an English Barbeque, never mind a proper South African one.
On Tuesday I'm having a trial run of baking Mieliebrood in Sean's Aga. The recipe calls for 90 minutes at 190C, and Agas are either very hot (top oven) or lukewarm (lower oven). And also this week, I'm going to make sweet and sour green bean atchar and tomato and sultana relish. They will need a couple of weeks to get to their best.
The concession we are making to Englishness is having fresh strawberries and ice cream for pudding.