Well, the long anticipated day arrived yesterday - Sean's 70th Birthday!
Doesn't he look very fine?
On Sunday, he went to Milton Keynes to see his children. They are both in their 30s and he loves them dearly. He cares about them and worries about them. He fears that his daughter is working too hard and that she may make herself ill. He had a nice dinner with them and stayed overnight at his daughter's flat. On Monday, the actual birthday, he went to London, where I was to meet him. The plan was that we were to meet at the Brompton Oratory and hear Mass, because he was baptised and confirmed there.
Unfortunately, I had an attack of 'thinking'. I was excited about going to London and I had a map which showed a quick and easy route from the station to Brompton Rd so I decided to take the scooter and the dog and see a bit of London. I got hopelessly lost, of course. The place was crawling with Police due to the American President arriving and the G20 summit, so they were tense and couldn't be distracted from their work by giving me directions. I soon began to feel the effects of the crowds, traffic, noise etc and asked for help in a Knightsbridge office block. They were very rude to me and I was told to clear off as it was private property. I couldn't help it - I began to cry. Thank God Sean phoned me. I told him where I was and came to rescue me. He looked like such a hero to me. I told him I was sorry I hadn't listened to his advice to take a taxi and that I missed the important Mass at the Oratory and that I'd spoiled his day. He was very sweet and kind and said I hadn't - he is such a gentleman. I have never been so pleased to see him and if I could have knighted him, I would have.
Here he is outside Buckingham Palace
Beautiful daffodils in St James' Park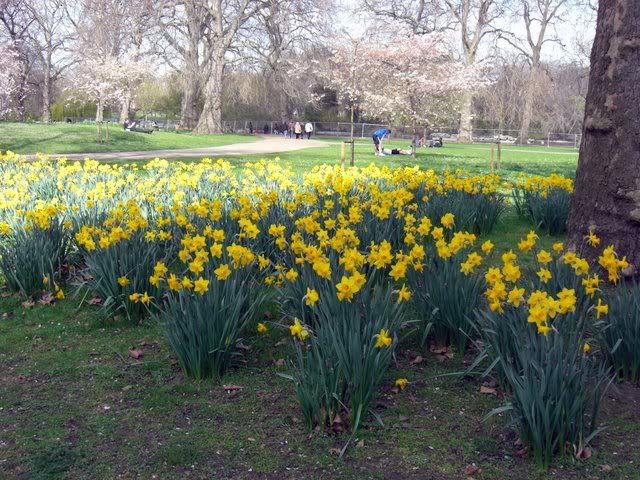 Admiralty Arch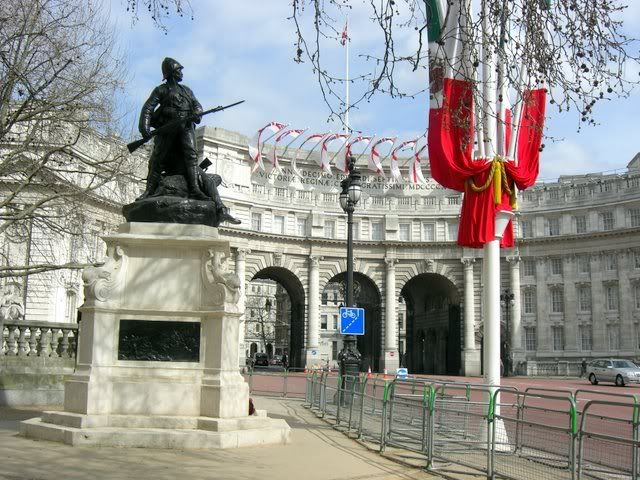 The Grand old Duke of York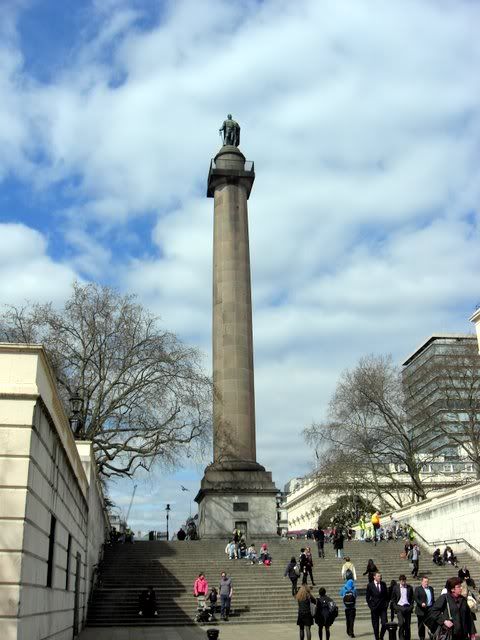 Big Ben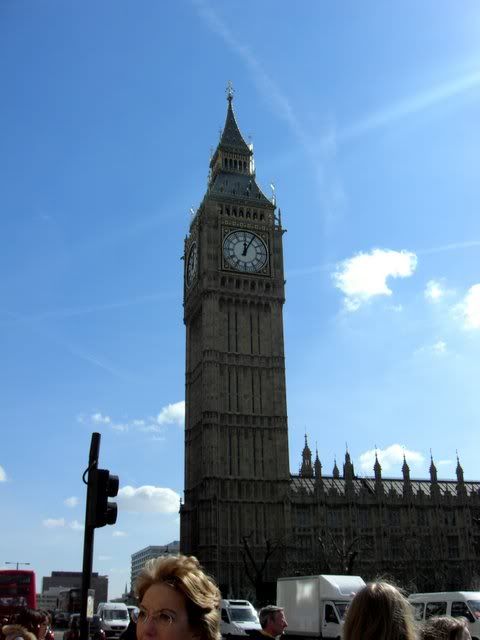 Trafalgar Square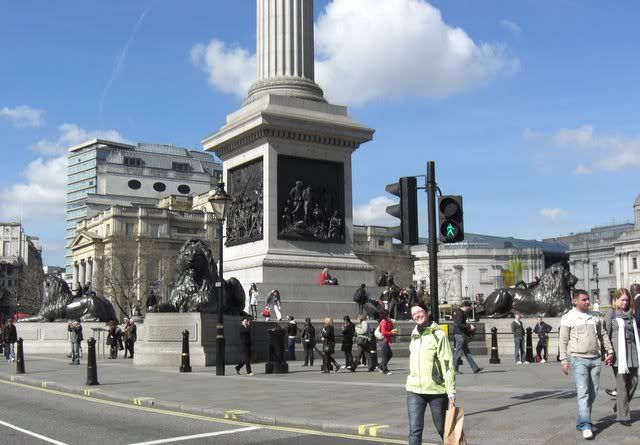 When we got to Charing Cross, Sean said he would like a sandwich at the Charing Cross Hotel, but of course I had the scooter and the dog. A Scotsman was operating a newspaper stand just outside the station and he talked to Brakkie so nicely. He told me he had always had Labradors but he now lived in a small flat and it wouldn't be fair to have one. While we were having this conversation, Sean was on the phone to his secretary. When he finished, I suggested we ask the Scotsman to keep an eye on the scooter and Brakkie. Sean agreed, so I asked the man. Do you know, his response was so different to those nasty Knightsbridge types? He agreed very graciously and we went and had our sandwich with no worries. When we got back, the gentleman refused payment. He had been so kind and good, I felt overwhelmed and promised to say a prayer for him. Such an amazing contrast in attitude. I pray that he be blessed so much that he will feel swamped by blessings and good fortune.
When we got back to Tonbridge, Sean opened his card and present from his secretaries. The card was fab, and the present was a copy of Shakespeare's As you Like it. In the book, there were two theatre tickets to see the show at the Shakespeare Globe Theatre in London. Just look at his face - he is beaming. Brilliant choice, ladies. Thank you - you've made him a very happy man. He was delighted.
The Card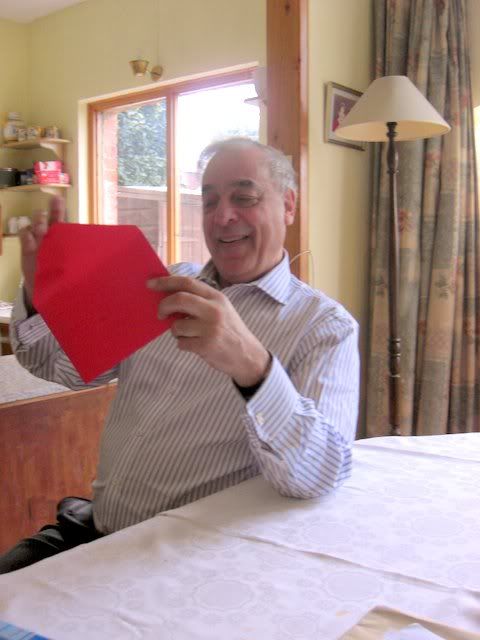 Unwrapping the Present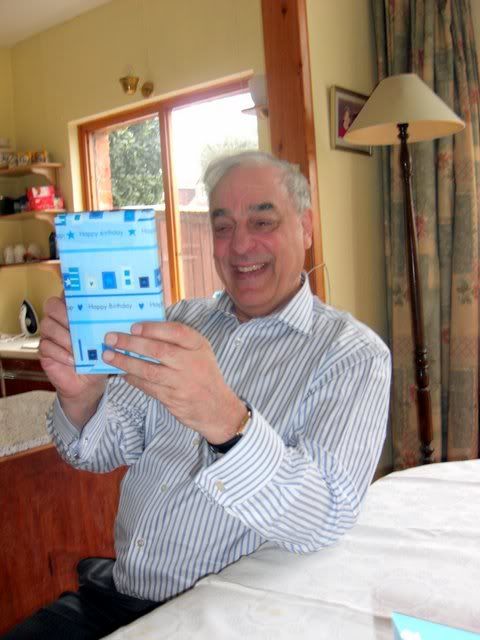 The book 'As you Like it'
The tickets to the show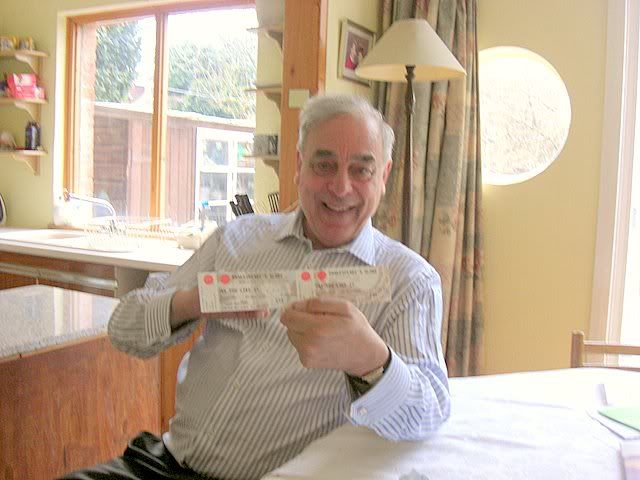 He's gorgeous. And doesn't seem 70 or anything like it. He is the sweetest man I have ever known, and his care over the past 10 years and more has done a lot to heal the hurts other men have caused my daughters and myself in the past.
When we first met, going on 11 years ago, I was sure that no one could be that good, and I kept waiting for him to turn and let us see his dark side. It never happened. I don't believe he has one. He is such good news that the world should have more of him. He is the best argument in favour of Cloning anyone could ever come up with.