The Weather People said that we would have a one day mini heat wave on Saturday, and they were right.  Saturday was just as they predicted and today, Sunday, has been stormy, rainy and cool.  
Sean has visitors from Austria, so he came down at 2pm on Saturday, as we had arranged to meet Caelyn, Nigel and the children at Tides indoor swimming complex at Deal.  Wendy had Sean up the very high tunnel slide at least 15 times.  Both Wendy and Teresa Jayne had a marvellous time and could have stayed for hours longer.  Nigel took Caelyn and Teresa Jayne home just before 4pm, leaving Wendy with us.  
It was hot and humid in the pool complex so we decided to leave at about 5pm to go into Deal to have a bite to eat.  We tried Dunkerleys, which had a good menu but not a child friendly one, so we moved to the Italian place, but they weren't serving until 7pm.  Then we went to the Port Arms that were serving food and had a child friendly menu.  
They were quite busy so there was a bit of a wait, and Wendy got restless and inveigled Sean into taking her to the beach over the road, to pick up pebbles and throw them into the sea.  While they were there, a dodgy looking young couple came to try to sell me some Garnier eye serum to take away bags under the eyes.  I am sure it wasn't honestly come by - probably shoplifted - so I politely declined.  
Wendy asked Sean for some of his tomato juice and he told her she wouldn't like it, but to his astonishment, she did.  She put in a bit more Worcestershire Sauce and stirred it with the swizzle stick she was so fascinated by.  When his Moules Mariniere came, she wanted to try one and he said she wouldn't like it, but he gave her one to try.  Silly man!  He was mugged!  She went back for more!  She had two sausages, baked beans, mash and milk of her own.  Plus she helped herself to some of my salad.  
The food revived her after her long swim, and she had Sean playing Sharks and Tigers with her.  She actually got him to climb on a wall and chase her around, and I will post photographic evidence to back that up.  
The Tomato Juice Incident
Wendy on the wall, keeping away from Sharks and Tigers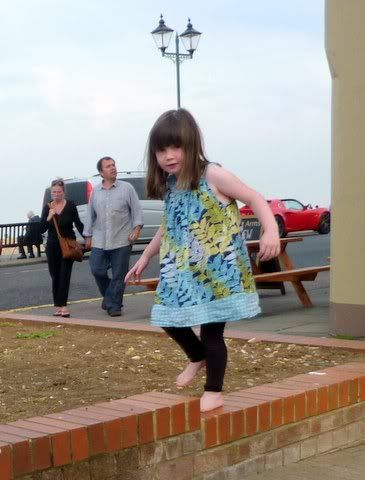 She inveigled Sean into chasing her around the wall
The Mugged Man (who loved it really)
This lass will be Prime Minister one day.  At least!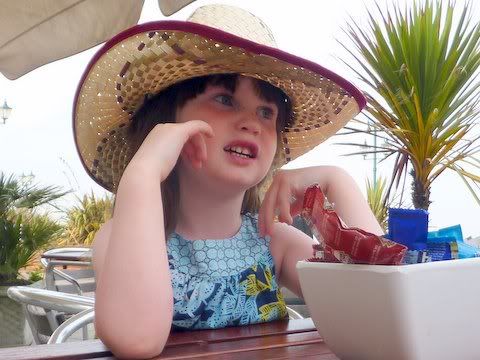 We took her home, tired and happy at 8pm.  Teresa Jayne had fallen asleep as Nigel drove back from Deal and she slept until gone 7 the next morning.  Wendy woke up frightened by the storm but she slept very well too.  Sean had to drive back to Tonbridge because of his guests, but we were very happy to have shared such a lovely day together.