I went up to see Sean on Saturday because we had invited the neighbours Mr and Mrs Taylor to tea.  They are both 80yrs old, and Mrs Taylor had been at Hawkinge for her officers training for the WRAF.  She was based over the road from where Caelyn and Nigel live, and she has fond memories of the Cat and Custard Pot pub where she used to relax in her spare time.  Her husband had been a Wing Commander in the RAF, and they have been Sean's neighbours for over 30 years. 
On Sunday, Caelyn and Nigel came for Sunday Lunch.  Teresa Jayne has been taking a lot of notice of Sean lately, so he had to pay attention to her too.  At the end of the day, he was shattered!  He hadn't realised how exhausting two charming little kiddies could be.  It was a lot of fun though.  
Wendy loves Brussels Sprouts and she had a lot, then asked for another helping.  She has a healthy appetite, and had more veggies than anyone else.  Teresa had extra baby carrots as she loves them.  I'm so glad those kids aren't finicky about food.  Wendy was starting with being fussy when she was a lot younger, and I told Caelyn that that was a battle she couldn't afford to lose.  So she had a few arguments with Wendy, and she won - thank goodness.  If Wendy didn't want to eat, Caelyn would take the food away and resist her pleas for ice cream.  It was a battle of nerves, as it may seem easier to let the child refuse food in favour of sweets, crisps or ice cream, but if you give in to that sort of blackmail, you will have trouble for decades.  Its one of the battles that a mother has to make sure she wins.
The meal was delicious and everyone enjoyed it.
First, there was the obligatory game of Football in the garden.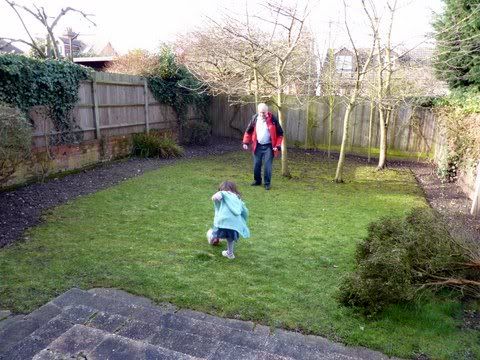 And the traditional Piano Playing time, with an extra little girl.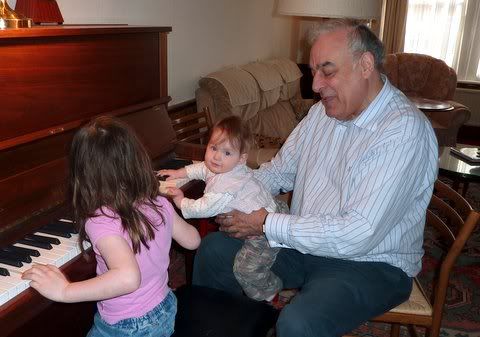 Then some games.  See how Teresa had crept under his arm.  She had been on the other side of the room and she crawled all the way around, under the table, until she was where she wanted to be.  She wasn't going to be left out!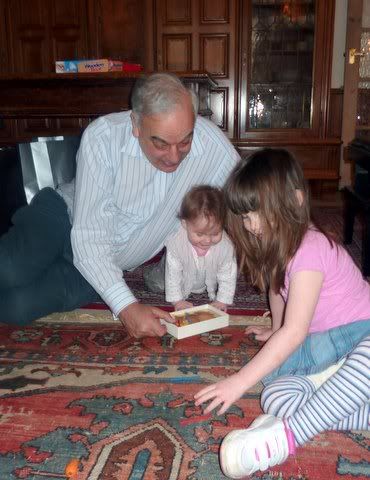 Even the dog joined in.
Then I looked after Teresa Jayne while Sean and Wendy were building a model ship.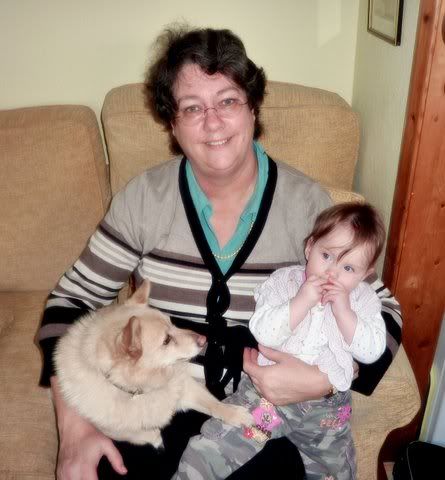 Wendy loved building the ship, and was very keen with the glue.  She wanted to paint it as well, and it took a lot of determination to keep her from opening the paints.  She was told she can do that next time, when it is warmer so she can paint in the garden to spare Sean's soft furnishings.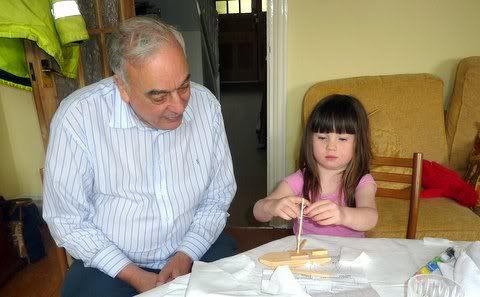 No wonder Sean was shattered at the end of the day.  He loved it though, as you can see.
Poor Caelyn wasn't well.  She is so run down and tired that she has ulcers on the inside of her mouth and on the back of her throat .  I used to get that, and it was surprisingly debilitating.  Its terribly sore and makes you feel rather unwell for days.  
She had to lie down on the bed and she actually fell asleep.  I bought her some multivitamins today, and in the long term they will help if she remembers to take them regularly.  In the short term though, she needs an injection of cash and a jolly good holiday.  When you are a young mother, you never get proper rest.  She hasn't slept a night through since she was expecting Wendy.  And when you are a mother, you have to put yourself last because the children can't help themselves, and no matter how good a husband is, he can't always do what needs to be done.