When Caelyn and Nigel do boring grocery shopping, I look after the kids as it is too stressful for everyone to drag little kids around supermarkets.  I looked after them yesterday, and it was lovely.  
Wendy and I did some baking.  We both enjoyed that, and she was wearing the apron her Auntie Michelle got for her for Christmas.  She wanted to take it home with her, but we decided in the end that it should stay here for when she needs it again.  She will be 4yrs old in March.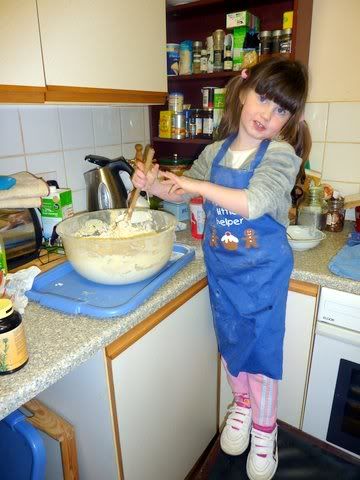 She and Teresa Jayne played a 'hiding' game and enjoyed it very much.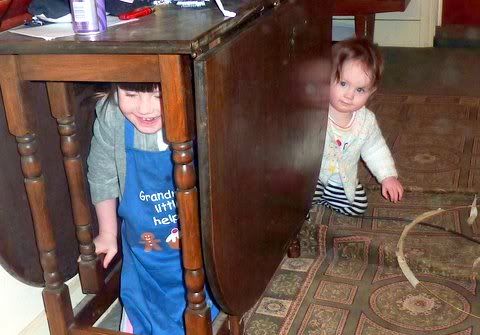 They actually play very nicely together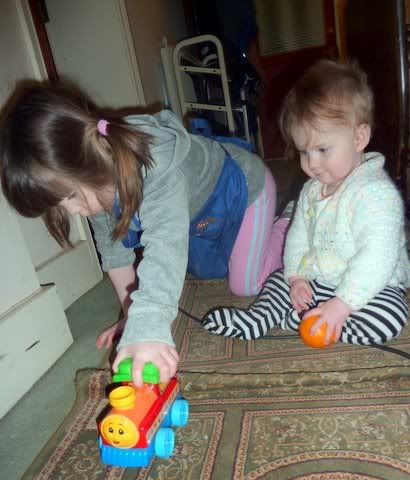 Then they set up their "house" and got Nigel into it.  As if that wasn't enough, the dog went in there too.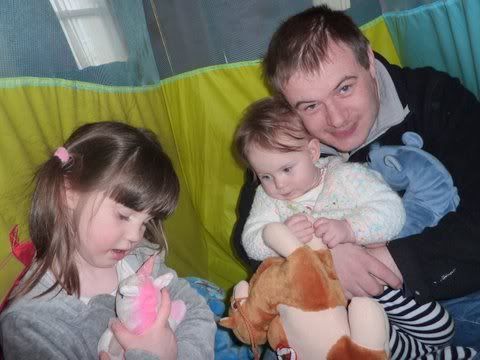 Little Teresa Jayne is very sweet, and she will be 9 months old on Saturday.
Although Wendy is nearly 4, she loves 'baby' games from time to time.  And why not?  Although she seems very mature compared to Teresa Jayne, she too is still very young.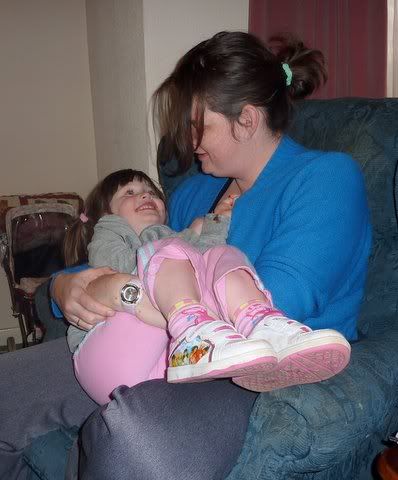 I love this one of Teresa Jayne.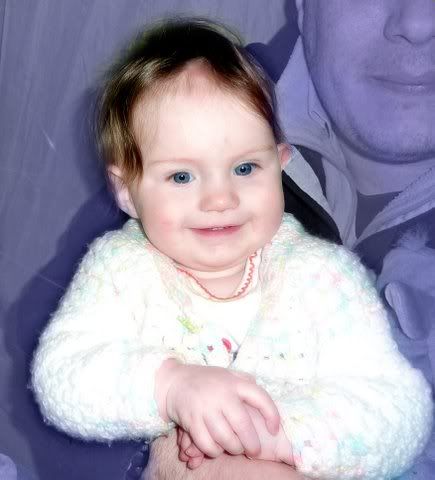 SNOW
Yes, its snowing and freezing again.  England is running out of gritting salt so many of the roads will be closed, and there will be roads blocked due to accidents.  Yesterday a lorry overturned on the motorway and Caelyn and Nigel had to put off going home, or they would have been stuck in a tailback for hours, and they and the children would have been very cold.  What my overseas friends might not realise is how disruptive snow really is.

The trains will be disrupted, so it may not be possible for me to go and visit Sean.  Road conditions are treacherous, so refuse collections will be disrupted, and when they return to normal duties, the refuse will have piled up and the binmen won't take it away if your rubbish bin lid is open by as much as a centimetre. In the summer, as they only collect every two weeks, the rubbish gets maggoty and the binmen won't take it then either because they "are not licenced to carry livestock".
Lorries won't be able to transport food to supermarkets.  Farmers will have to throw milk away because the dairy milk tankers won't be able to get to the farms to pick it up and the milk may only be stored for 48 hours in special cool tanks on the farms.  There are more calls for ambulances, especially elderly people slipping on the ice and breaking their hips, but ambulances often can't get to emergencies in rural areas.  In the last lot of snow, the police had to drive a midwife to a remote farm in a Landrover so that she could deliver a baby.
Britain has had snowy winters for centuries.  Why can't we cope with it?  Its not as if it has taken us by surprise.  Germany and France have no problems, so what is the matter with us?