On Sunday, Sean went with Caelyn and Nigel to a carpet warehouse in Hythe. He very kindly paid for their hall and stairway to be carpeted. They paid for the lounge to be done, and the lady is coming to do it on Wednesday. This will be wonderful, as you can't have a baby learn to crawl on concrete. There are rugs in the bedrooms, and they will be replaced in due course, but all the important areas will be carpeted this week. In the lounge, they are having 8mm thick underlay, and it will make such a difference to them. Wendy particularly wants the stairs done, like "fluffy stairs in old house". Sean paid £280 for the hallway and stairs and they paid £300 for the lounge. Apparently the Council don't see carpets as essential, but curtains are apparently essential. I don't agree with that. You can always tape newspaper over a window, but you can't let children play on concrete in the UK winter.

While they were in Hythe, I looked after Wendy, and she was so sweet. We made Trifle together. Then she told me that she was hungry, and I asked her what she would like to eat. "Ice cream!" she said. She had a good bowlful. Last week, she was too sick to eat ice cream, so I sent it home with her mum for Wendy to have when she felt better. It was a Sainsbury buy-one-get-one –free offer.

As you can see, Wendy is quite recovered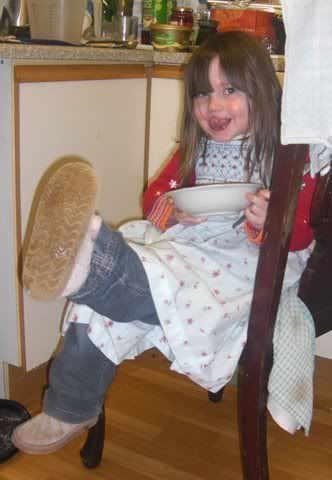 Teresa Jayne is pale and wheezy here, but trying to smile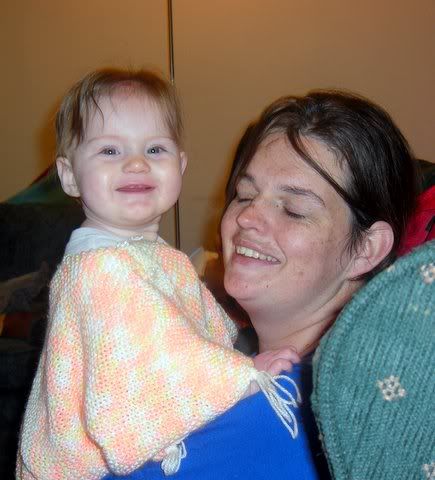 There had apparently been a fire in the kitchen of the new house and when Caelyn complained that the cupboards were bowed, the Housing Association agreed to come and install a new kitchen on Thursday, so things are really looking up. They have their cooker now, and a Bosch washing machine from my mum, a fridge/freezer, a condenser tumble drier from Tracey, a chest freezer etc. They have been very blessed. Carpets coming on Wednesday and a new kitchen on Thursday! Wow!!