I'm so behind with this Blog! No explanation really; just when I'm awake I'm busy, and when I've been busy, I crash out and need extra rest.
On Tuesday, Michelle came to my house after work. Wendy has been missing Auntie Michelle, so Caelyn and family came too. We first visited a while indoors, then decided to have a Picnic in the Park so that Wendy could run around and get rid of some excess energy. Caelyn, Michelle and kids went straight there from my back garden which borders on the park while Nigel and I went and got a KFC Bargain Bucket. We all chipped in as everyone was feeling a bit broke, and that ensured that we could have what we wanted without causing problems for anyone. Wendy had a great time running around and it was a very pleasant 'family' thing to do.

Here are some photos:
Michelle and Wendy
Wendy doing Michelle's hair. I think Wendy enjoyed it more than Michelle did.
Michelle, Wendy and Teresa Jayne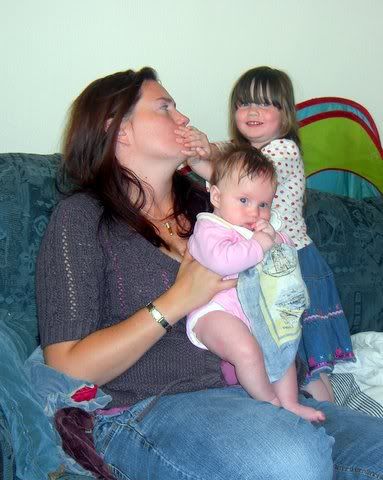 In the Park
Caelyn and Teresa Jayne, who is 3 months old
Michelle and Teresa Jayne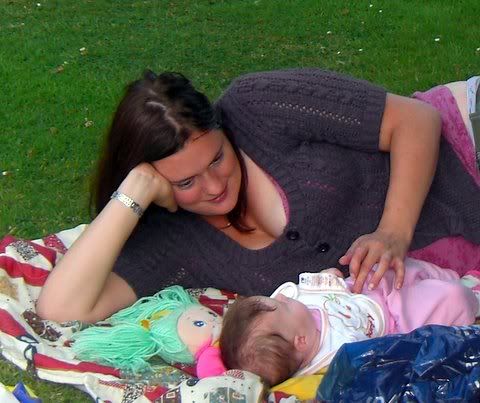 Nigel and Wendy
Nigel and Teresa Jayne
All in all, a happy time for everyone. Families need unpressured time together, just enjoying each other's company. It strengthens family bonds and builds relationships. We all need each other, and children develop in healthier ways against the context of ties to the extended family. Indeed, it takes the whole family to bring up a child. It is too much for any one person, and everyone on the family has a different way of relating to the children. These differences are good for everyone. Wendy, for instance, expects my mum (who she is missing a lot) to take her swimming or to toddler group. She expects to play physical and boisterous games with Michelle and Richard. She plays Tigers with Sean. She expects comfort and affection from me. The roles all overlap, of course. But still, she knows 3 generations of family who love her and who have special bonds with her, which is no bad thing. You need to know who you can depend on.
And on
Wednesday
, Richard invited me to his place to meet his mum, Josie. (Not to be confused with my mum, Josie). It was lovely to meet her after all this time, and we chattered away as if we had known each other for years. After that, I went to see Sean. And here I am on Friday morning, still feeling rather crashed but starting to feel nagged by my 'oughteries'. I have housework to do but not up to getting out of bed just yet as I'm still tired and aching. I wonder if a bath will help?
And tomorrow, my mum gets back from South Africa. She told me that she will have to see Wendy, no matter how tired she is. I think my mum has been missing Wendy as much as Wendy has been missing her. For my mum's sake, the visit should be a short one but Wendy's needs won't be satisfied with that. I don't know how they will work around those conflicting needs, but the pair of them need to see each other.
I wonder what she will say about Teresa Jayne, who has of course grown and developed while my mum was away.