Sean left for Downside on Thursday.  It feels odd, him going on his own.  He phoned in the evening to say that he had arrived safely and that all was well.
When I got back home, I was tired.  I think the week caught up with me.  Michelle was still in bed as she wasn't feeling well.  Nigel came to drop Caelyn and Wendy off.  Richard came to see Michelle.  Lisa came to cut my hair and my mother came to take Lisa home, so you can imagine the noise and chaos.  When I feel tired and unwell, I really can't handle noise.  Each one of these dear people thinks nothing of starting a new conversation while another one is still going on.  They will interrupt while someone else is saying something and so I have to try to keep track of at least two conversations at once, and it does my head in!  Why can't they wait until someone has stopped talking before they add their 5p worth?  The other 'sin' is when they interrupt me while I am trying to say something and they jabber away.  After a while they say "you were saying ... ?"  as if there was any hope of me remembering.  It makes me feel like a totally inconsequential idiot.  
I wish I knew what to do.  I have explained to everyone that since getting ME, I can't bear too much noise and I certainly can't follow more than one conversation at a time.  It creates enormous, exhausting tension in me and I need an extended period of solitude and silence to recover.  And, as you guessed, solitude and silence are not easy to come by. 
Caelyn's pregnancy is back on track and going well.  Her Consultant is happy and thinks she may be able to deliver at Buckland Hospital, as she would like.  Buckland is a lovely little hospital and their Maternity Unit is wonderful.  
Her bump is really quite big now, and she is suffering all the discomforts of advanced pregnancy. 
36 weeks pregnant
A sweet family scene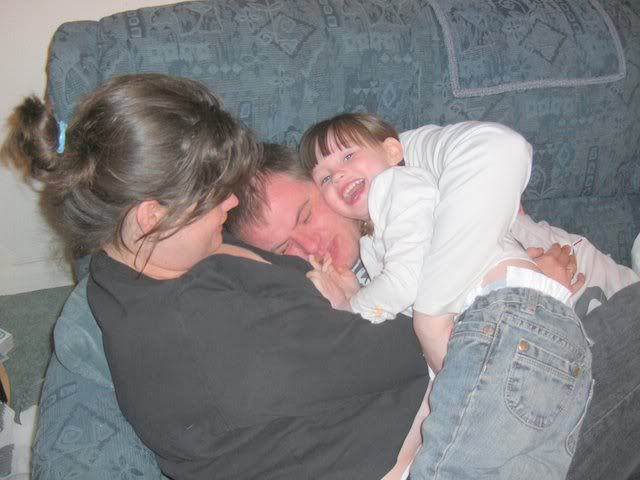 Wendy 'writing'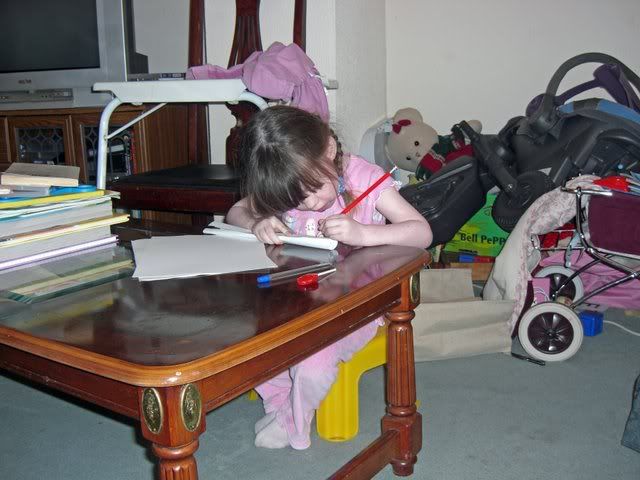 'Great with Child' to use a Biblical phrase